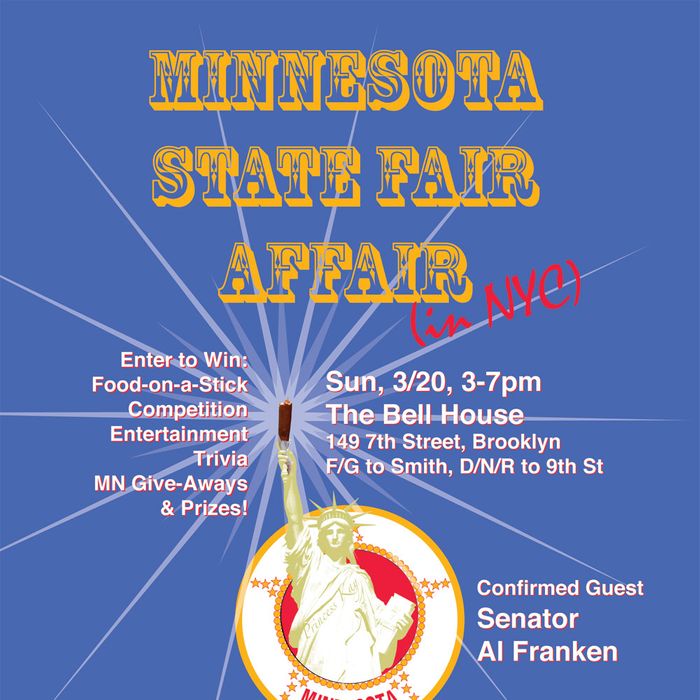 In addition to honoring our own local dining traditions, the Bell House is hosting a Great Minnesota State Fair Affair complete with Minnesota food trucks and beers (wait, does that mean Hamm's!?), butter sculpting, and a food-on-a-stick competition that'll be judged by Senator Al Franken. Until now, the only way to experience Minnesota cuisine (to our knowledge) was to order the artichoke dip at Freemans! We asked a recent Gopher State transplant, Brian Puckett, to tell us whether or not we should be excited for the March 20 event, and here's what he said.
This might be a great opportunity to introduce someone you may not like to lutefisk, which is a barely-edible fish that is pickled in lye during preparation. But if they really want to make this authentically like the Minnesota State Fair, they will need to arrange for every overweight person in NYC to be there and rub their jowly elbows against one another while eating food on sticks in armpit-esque humidity. On the other hand, Minnesota has some of the best Vietnamese and Hmong cuisine in the United States— let's hope there's plenty of that.
Minnesotans, anything else we should be on the lookout for?
The Great Minnesota State Fair Affair [Facebook]