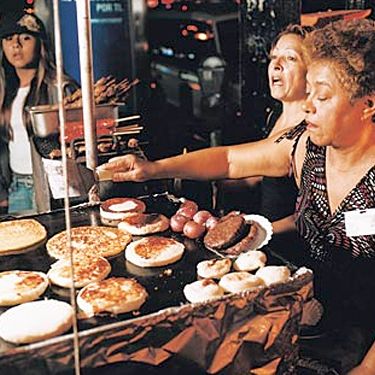 When we first got word that Ten Speed Press was publishing a cookbook titled Food Trucks: Dispatches and Recipes from the Best Kitchens on Wheels, we were all like, eh, another attempt to cash in on the food truck trend. But then we got a copy of the thing and turned to the New York section (the 45 recipes are divided by region) and found — yes! — an arepas de queso recipe straight from Maria Piedad Cano, better known as the Arepa Lady of Jackson Heights. She operates a cart rather than a truck (as do the other four New York selections, except for the Big Gay Ice Cream Truck), but no quibbles here. Author Heather Shouse (of Time Out Chicago) is to be lauded for giving the old school some love here — she even includes a map of all the mobile goodness on Roosevelt Avenue.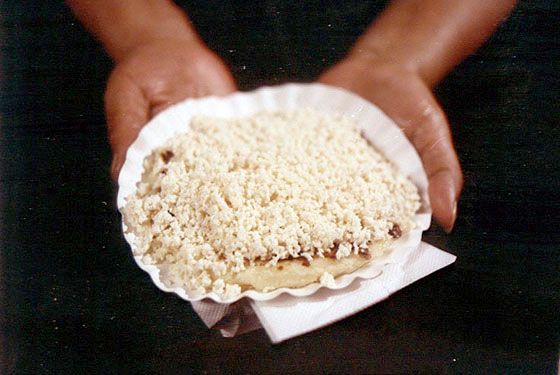 In addition, there's a recipe for jerk chicken from the Jamaican Dutchy cart, and a Rava Masala Dosa recipe from N.Y. Dosas. Even though Shouse dedicates two pages to the Trini Paki Boys Cart, she doesn't manage to get an exact recipe from proprietress Fatima Khan, who will only reveal that the hot sauce is made from pureed Scotch bonnet peppers, vinegar, and water; the white sauce that perplexes even the experts is a "thinned yogurt and mayo blend"; and the chicken thighs are marinated in oiled-based rub of garam masala, curry powder, salt, and pepper. Here's the Arepa Lady's recipe, for those who can't wait till the book's May publication.
Arepas de Queso

Serves 6

2 cups masarepa (arepa flour)
2 cups hot water
1/2 teaspoon salt
1 cup shredded mozzarella cheese
3 tablespoons margarine
1 cup queso blanco (crumbly white farmer's cheese)

Mix the masarepa, hot water, and salt in a large mixing bowl and let rest for about 10 minutes. Knead the dough until it starts to take on a sheen, kneading in the shredded mozzarella as you work. Form 6 round patties about 1/2 inch thick and set aside.

Heat a large nonstick pan or griddle over medium heat. You'll use about 11/2 teaspoons of margarine per arepa, so add the margarine to the pan according to how many will fit at a time without crowding. After each arepa browns on one side, flip it and immediately baste the top with a little of the margarine from the pan.

Continue to cook until both sides are browned and lightly crispy. Transfer each arepa to a plate and top with a sprinkle of the queso blanco before serving.