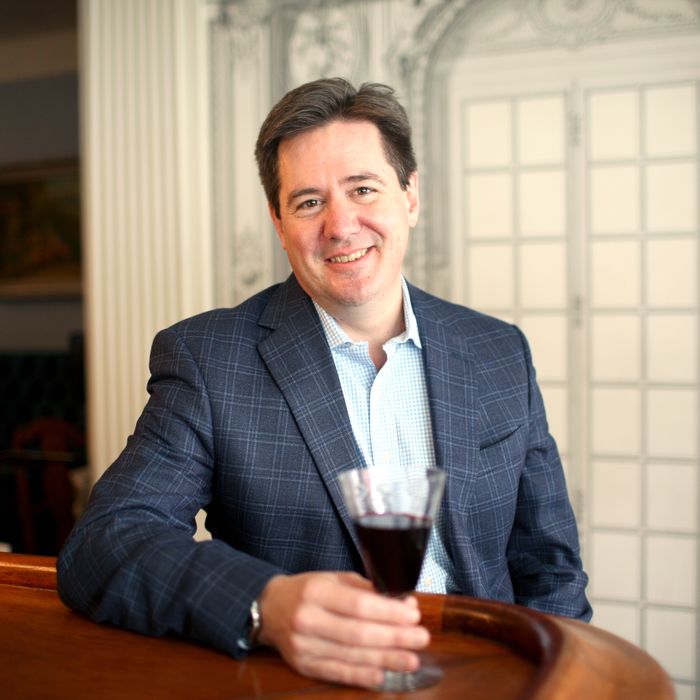 Ray Isle at Duane Park.
Photo: Melissa Hom
As executive wine editor at Food & Wine, Ray Isle basically has a dream job. "Wine and writing are the two things I've been captivated by for a long time," he says. "There are days when I'm tasting ten Châteauneuf du Papes or something and I think, This is crazy, they're paying me to do this." Lately, he's also been palling around with Stanley Tucci while the two tape their new show, Vine Talk, which premieres April 7th on public television (a full list of stations and air dates is here). "It's a celebrity-talk-show-cum-blind-wine-tasting," Isle says. "It's a wild mix [of guests], and you throw them all together at a table with a chef and you give them wine and the conversation gets … very interesting." Speaking of interesting, it's hardly a surprise that this week's New York Diet is full of great food and, of course, outstanding wine. See for yourself, straight ahead.
Friday, March 18
Got up, sleep-walked to the kitchen, pushed the button on the coffee maker — automatic drip, savior of the non-conscious — went and splashed water on my face, then got a cup of coffee. What I like to believe is that, like Conan the Barbarian, I simply "Wake from sleep instantly aware, like a jungle cat." I think that's the line. Of course the truth is I just wake from sleep instantly unaware. Sort of like a really wound-up sloth.
I didn't get around to eating anything until I got to my daughter Mimi's school to watch the lower-school spring performance for grandparents' day. She's 8-years-old. Since none of her grandparents live closer than 700 miles away, I was a stand-in. I ate half a bran muffin off the table of random baked things they had in the back of the auditorium. It was as nondescript as a bran muffin can be.
My office is directly around the corner from the Food & Wine test kitchen, so I'll offer this as a relatively standard version of my lunches: Two bites of spaghetti with pesto Genovese (not sure what article it was for); three bites of some sort of Michael Symon roasted chicken recipe that involved lemon and bay leaves (great); a quarter of a ridiculous but tasty 'Cheyenne' Burger (it was a Bobby Flay recipe). Then I indulged my inner Ozzy by biting the head off a chocolate mouse. One of our test kitchen chefs, Grace Parisi, had made a tray of them for a Halloween-treat article we have coming up. It was an excellent chocolate mouse.
Later I tasted through some wines for a seminar on older vintages I'm doing for our Aspen event this year in June. Three vintages of a Yeringberg Marsanne/Roussanne blend — 1999, 2000, 2001; a 1985 Conde de Valdemar Rioja; 2001 Lopez de Heredia Vina Tondonia Rioja; 1999 Jordan Cabernet; and 2000 Jordan Cabernet. I spit everything out. It's a shame with wines that good, but otherwise you end up drunk, and then eventually you end up unconscious in a ditch, shunned by man and beast alike, and who wants that?
That evening I hung out at my friend Gary Shteyngart's apartment for this kind of informal, once-every-whenever get-together for writers that a group of us has been doing for years. We thought we might go out to this Georgian restaurant in Midwood, Tbilisi, but instead we were lazy and just ordered a crazy abundance of food from Grand Sichuan International. Five-spice beef, dan dan noodles, mapo tofu, loofah, double-cooked pork, pea-shoots with garlic, spinach with garlic, a couple of other things. It probably would have gone better with beer, but I brought wine — that '85 Valdemar from earlier, a couple of Russian River Pinots, and a quirky Aussie red, '05 Yarra Yering Dry Red #1. Apparently Yarra Yering's owner lived alone with his housekeeper for years, and then after he died it was revealed they'd been lovers all along. Good wine, though.
Saturday, March 19
Coffee. Then a piece of challah toast with raspberry-pinot noir jam that a winery sent me at some point. Post-toast, I went to the gym and ran a couple of miles, then went off to Chelsea Market. We were having friends over for dinner, and I wanted to grab some good wine; I keep my wine at Chelsea Wine Storage, since there's no space at home. Bought food, too: A gorgeous piece of pork shoulder from Dickson's Farmstand Meats, bread, vegetables, pasta, cheese. Then I shuffled out to the street holding about fifteen bags and got a cab home. It's that NYC pack-animal approach to shopping.
My wife Cecily had a friend visiting from Florida, so she and my daughter were out all day with them. I cooked. I made baked orecchiette with a pork sugo, hashed Brussels sprouts with Pecorino, and cipollinis roasted with balsamic vinegar and olive oil. The pasta is an Ethan Stowell dish we ran in the magazine last year. Since I taste a lot in the test kitchen, I have a kind of personal "greatest hits" list of recipes I use a lot. The sprouts are just my kind of wing-it-and-see rendition of something I had at Lupa a long time ago. And roasted cipollinis are roasted cipollinis, of course.
I did what I always do with dinner parties, which is plot out how long it's all going to take, leave myself extra time, and then end up in a totally frantic mad scramble at the end trying to get everything done. But whatever. Everything turned out well, and the wines were great. My friend Jack, who works for a German wine importer, brought some pretty fantastic Sylvaner and Riesling; I opened some fun odds and ends, a '96 Gevrey Chambertin rouge 1er cru, a '97 Sicilian Cabernet that my wife and I discovered on our honeymoon, and a '98 Gigondas from Raspail-Ay. We finished with port and cheese: Some stilton, comté, and a cheese called Winnemere from Jasper Hill Farm, which I think is one of the best cheeses made in America. The Port was an '82 Smith Woodhouse Madalena, a single-quinta wine. I thought might be getting elderly, but it was glorious.

Sunday, March 20
Coffee, and a donut. A Dunkin' Donut, in fact. I was the first one up and there was this box of donuts on the dining room table. This was sort of mysterious, since I didn't remember them from the night before. Turned out my wife's friend had bought them, then they got put out of sight until Ceci was cleaning up after the dinner and I'd shamelessly gone to sleep. I actually don't love donuts, but I ate one anyway.
I meant to have lunch, but then somehow ended up at ABC Carpet with Cecily and Mimi looking at carpet remnants. It felt like we were there for 100 years. Our cat has both fouled and clawed the old carpet. ABC didn't have any electric carpets, which would have showed the little beast who's boss, but such is life. He's actually a very sweet cat. His name is Napoleon. My daughter will tell you quite firmly that he is the best cat in the world.
For dinner we had leftovers. Normally day-old pasta is sort of clammy and depressing, but baked pastas have a longer half-life. I opened a bottle of Pesquera that I'd brought back for the dinner party and that we'd never gotten around to. If there's a Spanish equivalent of the French phrase comme ci, comme ça, that's what it was. Still, it made me think of the winery's owner, Alejandro Fernandez. I visited him once, and he drove me around Ribera del Duero in a bright blue Mercedes sports car. He'd drive at insane speeds right smack down the center of the highway, straddling the two lanes. I think it was while visiting him that I formulated my personal rule about Spanish, which is that with one glass of wine, I speak it crappily. With two glasses of wine I'm mysteriously fluent. And with three glasses, I have the devil-may-care nonchalance of a fluent person and the actual verbal ability of an idiot.
Monday, March 21
Coffee. Made my daughter a bacon omelette with some amazing bacon from Caw Caw Creek, down in South Carolina. I am trying to buy my child's love, clearly, but by God I am succeeding.
Lunch was the typical F&W; test kitchen lunch, which is to say a few bites of halibut topped with shrimp mousse, a few pieces barbecued brisket — OK, more than a few pieces; I cannot resist good brisket — and a couple of bites of squid stuffed with chorizo and scallops. I drank water.
My wife was out, so dinner was a bowl of ricotta-and-spinach pansoti — fancy-ass ravioli, basically — that I'd bought fresh at Eataly last week then froze because I ran out of time. I had them with a store-bought tomato sauce I doctored with red wine, fresh oregano, some of that Caw Caw Creek bacon, and a little good olive oil. I drank a glass of the Pesquera I'd opened the night before, which was actually better the day after.
Tuesday, March 22
Breakfast was supposed to be a medium Americano from Dean & DeLuca at Rockefeller Center and an almond croissant. But I never got around to eating the croissant. I was there to do a Today show thing for the fourth hour with Kathie Lee and Hoda, talking about value wines, and I just entirely forgot about the croissant while I was sitting in the green room.
Straight from Today, I went to a tasting of the '09 Jadot Burgundy vintage, then from there to a lunch at Ai Fiori for Bertani, an Amarone producer. Lunch was agnolotti filled with braised veal, braised beef cheeks with some sort of mysterious greens, possibly kale, and cheese. The wines were spectacular. Various vintages, the oldest a 1967. No matter how long I work in the wine business, I still get a kick tasting wines that old. '67 was the same year the Stones released "Ruby Tuesday." People were protesting the Vietnam war. And here's this bottle of fermented grape juice that's transformed over the four decades since then into something ethereal and extraordinary. I'm biased — I love wine — but I do think that's sort of mind-blowing.
It also happened to be my birthday that day, so for dinner my wife picked up food from Wu Liang Ye, near her office, and we had a low-key birthday dinner at home with our daughter. Shredded tea-smoked duck, poached chicken with spicy chili soy vinaigrette, asparagus with Yibin city spice, pork with spicy garlic and tofu. I opened a bottle of Laurent Perrier Grand Siecle Champagne. I would probably never suggest this kind combo in print — food that spicy will obliterate almost any wine — but what the hell. If you can't have Champagne on your birthday, why have a birthday at all?
Wednesday, March 23
Got up, daughter off to school, went to gym, ran two miles. Coffee. Banana.
The test kitchen was testing waffles. Lots of waffles. Sometimes that happens. Plays havoc with my lunch plans. I went off to a Greek wine tasting, assyrtikos from Santorini. The tasting was at BLT Fish, so I ate a couple of passed mini crab cakes and a couple of mushrooms stuffed with mysterious gray chopped-up stuff. It was good, whatever it was. Plus a few fried calamari rings with a spicy aioli of sorts.
I spent the rest of the afternoon editing a lengthy article for our June issue, then went off at six to a tapas and wine event at Tia Pol. This was a quick stop — I had a couple of croquetas, a skewer of bits of lamb with a really zingy marinade, and a half-glass of Garnacha. Then I stopped at my friend Marisa's restaurant Duane Park down in Tribeca on my way home. It's kind of crazy how it's taken off. On weekends they have burlesque shows now, which are wildly popular and book up instantly, and apparently they're going to be having magic shows on Thursdays. But it's still one of my favorite places in the city to sit at the bar and have a bite to eat. I had the shrimp with cheese grits from Nora Mill in Georgia, which I'll have to look into since I've always been an Anson Mills fan. And I had a glass of some Bourgogne Rouge that Marisa was pouring. And then I went home.