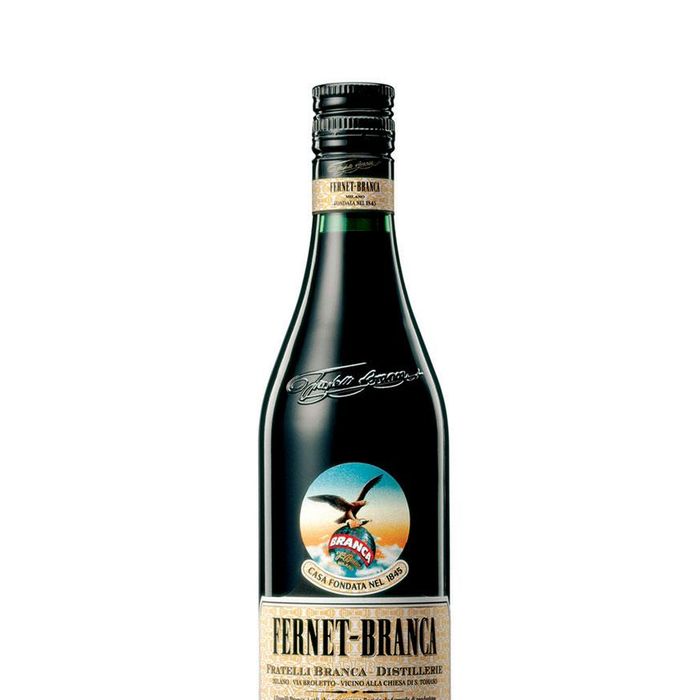 Photo: Fratelli Branca Distilleries
You've probably encountered Fernet-Branca: The Italian bitter liqueur has been around forever (we know more than a few Italian grandpas who swear by the stuff), and it's hugely popular in San Francisco — and you can bet its marketers are pushing for that to become the case around the country. We've seen it popping up at decidedly un-geriatric New York restaurants like Macao and Marea, and it's even served on tap in San Francisco and at Boston's Citizen Public House. The spirit's recent success makes sense: It's a 150-year-old botanicals-based product, with an actual Count — that's "Count" as in Dracula, not numbers, but more on that in a bit — behind it, in an era where all things old-timey and artisanal could hardly be hipper. But is that going to be enough to take it from niche product to national sensation? For starters, there's the taste …
Fernet-Branca is "a pretty hard-core bitter," says mixologist Eben Freeman. "If someone was unfamiliar with amaros, Fernet would not be the one I introduced them with." Freeman heads the bar programs at chef Michael White's three New York restauants, Marea, Osteria Morini, and Ai Fiori, and uses Italian bitters — called amari, a somewhat different beast than the non-potable bitters that bartenders shake into Manhattans — liberally at all of them. He's definitely seen an uptick in bitters-acceptance in general, which he credits in part, hilariously, to Jägermeister's popularity. "Bitter tastes are now more highly accepted by American palates that when I was in college," he says. Still, Freeman sees more growth potential in "the lighter amaros" like Noninos, and the wine-based Cardamaro and Zucca.
There's definitely one person who's unapologetic about Fernet-Branca's taste, not surprisingly, and that's Count Niccolo Branca Di Romanico, the fifth-generation scion of the Branca family. Grub Street met with Count Branca when he was in New York, at the Standard Hotel's Boom Boom Room, naturally, and encountered a middle-aged, soft-spoken, yoga-doing pescatarian with glasses and a beard (but no cape, unfortunately). "We are particular, special, unique," he insisted, and an Italian PR rep backed him up: "It's an unmistakable taste." Freeman credits saffron as part of Fernet's flavor, and indeed, that's one of the 27 herbs that goes into the secret Fernet-Branca formula, which rumor has it only Count Branca knows the recipe to (though even Coke knows to bestow their formula on two people at a time). Fernet is aged for a year in oak casks, and there's very little sugar in it, reps say, which is apparent on first sip — it's bitter, bracing, and as, Tom Maruscsak of Infinium Spirits, the liqueur's American distributor, says, "not for everyone." We can recall first throwing back the stuff in San Francisco in about 2004 (it's definitely an acquired taste), around the time Infinium took over the brand; since then, U.S. sales have tripled, says Maruscsak.
About the San Francisco factor: The City by the Bay accounts for 60 percent of Fernet-Branca's U.S. market share, though no one we spoke with can explain exactly why. "There's stories of bartenders bringing it back from Italy," one PR rep tells us. (According to a 2005 piece in SF Weekly, the city's connection to Fernet goes back a lot further, to Prohibition, in fact, when bars all over town were able to serve the stuff legally because it passed muster as a "medicinal" beverage.) And certainly clever positioning hasn't hurt things: When Infinium took over, it focused on marketing directly to bartenders, and for the past four years, Fernet-Branca has hosted the Bar Back Olympics industry competition. "Bartenders want to discover things people don't know about," says Maruscsak. Infinium picked on what was already going on in the San Francisco bartender scene more than half a decade ago and encouraged it: The payoff is that "the end-of-shift drink in San Francisco is a shot of Fernet," Maruscsak says. (We were discouraged to mention to Count Branca that it's so popular some S.F. bars even have it on tap. The Branca family is "not in favor" of this rogue practice, Maruscsak discreetly told us. "They want to see it served in their bottle.")
But who knows if success out west will turn into national ubiquity. Fernet-Branca has certainly become more visible lately, but the Italian-bitters field in general has gained over the past few years. "This idea of healthy drinking is popular right now," says Freeman. "I think there's part of the brain that associates botanical and herbs with being good for your health." Ultimately, when Maruscsak of Infininium Spirits says, "We have a brand that fits what's going on today culturally," he's right. But it's by far the only brand for which that's true, and we wonder if, despite clever marketing tactics, enough American drinkers will be able to get past the taste. Then again, look what happened with Jäger. Who's up for a few Branca bombs?