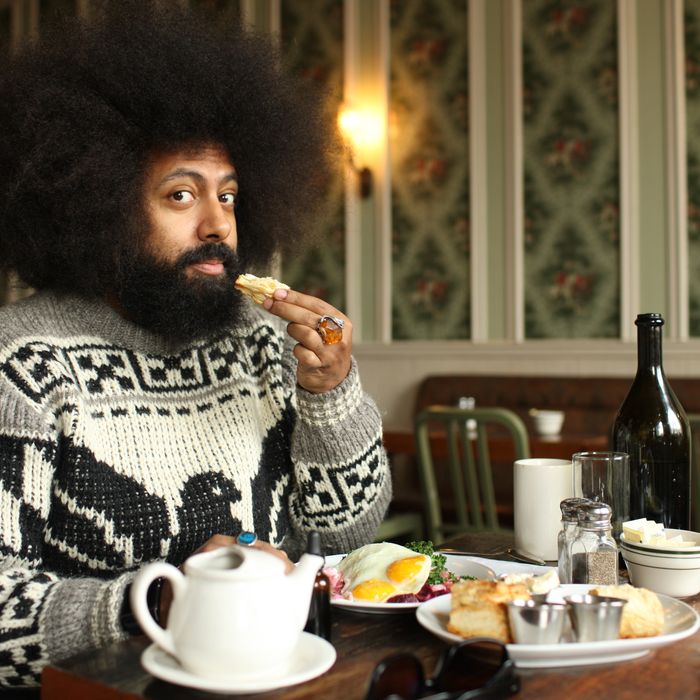 Watts, doing brunch at Roebling Tea Room.
Photo: Melissa Hom
Comedian Reggie Watts — who is performing tonight at SXSW in Austin, Texas — has been traveling for the past four years. But now he tells us he's ready to relax: "I do like touring and I don't want it to sound like I'm complaining about it … but after you've done anything — it doesn't matter how good it is or how horrible it is — you need a change." On the road, Watts, who isn't a vegetarian, still tries to cobble together a mostly vegetarian diet for himself out of restaurant meals and room service. "It's like animal rights, but also health reasons," he says. When he's home, he's always looking for "the healthiest versions of things that are usually not healthy for you," meaning all-natural Tang and Vegenaise. Meat substitutes and more await in this week's New York Diet (with stops in Philadelphia, Washington, D.C., and Harrisburg, Pennsylvania, along the way).
Friday, March 4
For breakfast that day, we actually went to a roadside diner called Yankee Doodle Diner outside of whatever the city we were in before … Harrisburg. I had this weird oatmeal cake with two poached eggs and toast. We drove into Washington, D.C., and we had to perform that night so I only had a little bit of time. I grabbed a bran muffin. When it comes to muffins, usually I try to go bran because it's the healthier of all the muffin choices. Not that much, but it's a little healthier. Then I went to a grocery store to find cookie mix, because we had kitchens in our suites and I wanted to make pot cookies. I try to get organic stuff. I think it's called Arrowhead. They have a chocolate-chip-cookie mix, and I think I got a gluten-free one. That was the idea, of making the perfect, super-healthy pot cookie. It didn't work out. I ended up falling asleep at the end of the day and not making it.
I try not to eat right before I perform. It's better to perform on an empty stomach — it just feels better. You just feel like a leaner machine. You're not worrying about digesting things. And then afterwards I'll go out with everyone and have a meal. That night we had a meal before the show at the Black Cat. It was vegan nachos. I didn't realize they were using a tahini-based cheese, which just didn't taste right. What's the other thing I had? It wasn't that good. Oh, just a salad with apples and nuts, and some kind of a balsamic vinaigrette.
After the show, we went to the bar next door, and then I immediately left because I don't like bars. I had a sparkling water, and I also did one shot of tequila. I don't really like to drink. I don't like the way alcohol feels or tastes. On occasion I'll do it as a social thing, just to kind of go, "Hey! I did something with you guys!" So that night I did drink a shot of tequila with everybody, the whole crew and comedians. Then I went back to my hotel room and was maybe going to get something to eat, but I collapsed on the bed and crashed.
Saturday, March 5
That day I had oatmeal with two poached eggs and toast; I think it was rye. That was at the hotel. It was fine. It's kind of hard to screw up oatmeal.
We ate breakfast and then just started rolling. We stopped at a gas station and grabbed a granola bar, an almond flaxseed TLC bar. And then we cruised into Philadelphia. Philadelphi-I-A. Then we went to our hotel, and I think while I was there I had some shortbread cookies from the mini-bar.
We ate at Morimoto before the show. We kind of ate a bunch of things, but I ordered one hamachi sushi, one unagi sushi, and then everyone ordered a bunch of stuff. They had wasabi fried rice, which was really good. We had this Wagyu beef. It was just really thin, thin slices of Wagyu beef that were lightly cooked in some kind of a sweet sauce. I'm not a beef person, but I figured it was a fancy restaurant, and the way they described the beef itself, the animal, and how they cooked it, I felt that it would be fine, so I had some of that. It was very good, but not good enough for me to want more.
I had some club soda and lime at the show, then after the show we went back to the Le Meridien where we were staying. Everybody convened in Eugene [Mirman]'s room and then they ordered some cheesesteaks. I had French fries and onion rings. That was it. Eugene is kind of a, is certainly a gastronome. He just loves good food, but he also just likes hearty local food: pancake places and diners. I kind of share his sensibility in that regard, but I tend to get stressed out if that's all I'm eating. On occasion, they're like, "It's Philly! It's a Philly cheesesteak! It's from the best Philly cheesesteak place in town … that's still open." So I think that was the thinking. There were Yuenglings, and whiskey. I drank water.
Sunday, March 6
We came back Sunday, and I had oatmeal and eggs and toast from the hotel room service. So yeah, did that, and then got on the road. They stopped at some shopping-mall complex that had a diner of some sort, and they all got out. I didn't get anything. I was still full from oatmeal.
We got dropped off in Park Slope, and I took a car back to Williamsburg. I was a little bit hungry. I think I came home and ate a bunch of pot cookies that I had made. These were awesome pot cookies. I made them with a friend of mine, and she kind of put the ingredients together and I just kind of baked it. But I chose the ingredients, which were quinoa flour, carob chips, and sucanat. It's a form of sugar. I think it's unfiltered cane juice, so it has kind of a large grain. Like Sugar in the Raw has got that, but it has much more of a molasses flavor to it. It's an amazing form of sugar. We got local organic butter from a New York farm, and then we just melted the butter and infused the magic stuff, then we made the cookies. They stay moist even when you refrigerate them, and they taste really good. Even if you didn't put the magic stuff it'd be fine. Then I had one piece of black-rice toast, and I had some Earth Balance margarine on it, and I had some hemp milk. I think that was kind of it for that. It's not the healthiest.
I had a gig, so I ordered a sandwich from Brooklyn Standard for dinner. Their portobello sandwich, which is marinated and grilled portobello mushrooms, pea sprouts, tomato gastrique, chevre, oven-dried tomatoes, and asparagus spread, served on a toasted whole-wheat multigrain baguette. It's really delicious. I had a Stumptown iced coffee with that. If I have coffee or tea, I think of it more as a way of getting high than anything else. I think of it as a drug. So if I'm really, really feeling low energy, I'll go for a coffee. Tea is more … I drink it … you know, green tea has good stuff in it, and I do enjoy a cold iced tea. Or sometimes I enjoy Arnold Palmers. They're my favorite drink, so I order Arnold Palmers all year round.
After the gig I think I went home and I ate more cookies. I was just going for it. It was weird. Part of it was that, maybe I would get more hungry as I ate more cookies, because the cookies are making me hungry? But yeah, that's it. And some more hemp milk.
Monday, March 7
On the day of the moon I turned into an ice fairy and attacked a group of children that were waiting to go to school. Then I took apart a machine — no, I'm kidding.
I got up and I had a piece of black-rice toast, and then I left to go to a meeting. And then after the meeting went to Dos Caminos down in the lower … I don't know what you call it. What's just above 14th Street on the east side? It's a weird area … the Mid-East? Is there such a thing as the Mid-East? Anyway, it was in that fictional area that I just said. I ordered a shrimp quesadilla, and then we had fresh guacamole and chips and salsa. Kind of boring, but it was kind of fancypants. I used to be into hot stuff, but I don't know, lately it's just been fucking with my lower intestines. It's my body going, "Please don't do that. It doesn't mean you're a woman. It just means stop doing that." I got an Arnold Palmer. It's my constant. Doesn't matter where it is. If they can make it, I'll take it.
I hung out for a little bit and watched some movies, and made a Quorn sandwich. It's like a chicken substitute, kind of. It's really, really good. So I made one of those with Vegenaise and organic ketchup on the black-rice bread. Usually I like to use the white-rice bread for that. I had some FRS drink. It's a quercetin-based orange drink. It's extracted from onions and garlic and shallots, and they put it in this orange kind of energy drink, and the quercetin gives you natural energy. It's like Tang, but it's good for you. It's all-natural.
Tuesday, March 8
Okay, Tuesday. I had hemp milk. I remember taking some of the leftovers from the shrimp quesadilla that I had. I took half of it home and used the shrimp to make with eggs and toast. Then I did a video shoot, and during the shoot I ordered a Mediterranean salad with salmon from Ella Café. It's a really nice meal. To drink I had child's blood.
No, I just had water.
From there, I had this premiere. I went back home and maybe had a cookie, then took a car to the Angelika Film Center, where there was a premiere of The Fuzz. I did voice-over for one of the puppets. It's a live-action puppet police story. It's pretty good. I like it. They screened it twice, and after the first one I was getting hungry, so I got a … this is horrible, but I guess I'll just say it because that's where I went. The area that place is in is kind of stark, and there are no food places around, but I had to go and get back so I needed something quick. The closest thing I found was a Dunkin' Donuts, and I went in there and ordered the egg and cheese flatbread sandwich, and it was good. It was the perfect size. I'm hypoglycemic, so if I don't eat I start to get really blood-sugar crazy. I feel like I'm going insane.
I met up with my friend and my manager and we saw the second screening, which was fun and awesome. Had some club soda and lime, and then left to go do a show at Cake Shop. Then my friend and I decided to get something to eat, and we went to her friend's place, Zucco. Friends of mine were there as well, at the bar. We ordered l'escargots, and then we had a pot of lentils, and a salade avec lardons. I didn't really eat the lardons. I tried a little tiny piece of one, and it wasn't really doing anything for me. It's too obvious. Those types of things I will eat, but usually I feel like I'm worried about my health immediately after I've eaten it, which is a horrible way to feel right after eating.
Wednesday, March 9
Believe it or not, I had some of the quesadilla left, so I had a couple of bites of that and thought, That's just the wrong thing to have. And then I went to do the photo shoot for this at Roebling Tea Room, and I ordered the beets and egg, and that's kale with goat cheese and a beet salad, and it has two sunny-side fried eggs on top. It's really nice and green. I had that, and then I had a side of biscuits. They make like, the best biscuits in town. Or at least one of them. Really, really good, and really nice raspberry preserves and fresh butter. That was brunch, basically, and I had a sencha green tea.
For dinner I had Mexican food, but I'm trying to remember the name of the place. It's in the East Village; it had a funny name. Highly recommend it. We tried to go to Barrio Chino, but was like an hour and a half wait, so we didn't go there. Wherever we went was close by there, but I can't remember the name of it. I had black-bean soup and tortillas. And corn chips that we used as croutons. I guess that was it for that. I didn't have an Arnold Palmer because they didn't have iced tea.