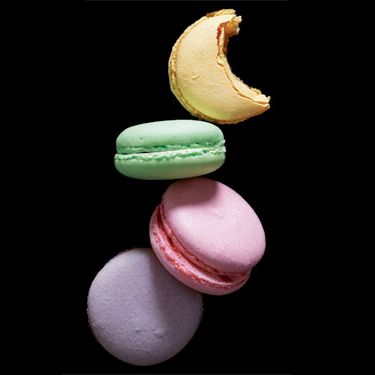 What do you think makes these things so colorful?
Photo: Hannah Whitaker
While the FDA meets to examine a possible link between food dyes and hyperactivity, we were curious how this food-coloring kerfuffle might affect New York restaurants and chefs. Not surprisingly, Le Bernardin's Eric Ripert told us he doesn't use dyes: "Food doesn't need to be colored … I'm all for natural and good-quality products not altered by anything," the chef opined. Meanwhile, Thomas Keller tells us he does use dyes in the macarons he serves at his restaurants and bakeries: "I think it's pretty common in pastry shops," he noted. He said he'd need to do more research before weighing in on the FDA's investigation. But while the French Legion d'honneur recipient is taking a wait-and-see approach, the scare does have a few places scrambling to find alternative coloring methods.
An employee at Billy's Bakery, known for its red-velvet cupcakes, told Grub Street the chain is "trying to change that as soon as possible … we're trying different things at the moment," including beet juice! Speaking of beet juice, wd~50's Wylie Dufresne is known to use it (and spinach juice) to color his sometimes-wacky creations. But he told us there is one dish for which he employs artificial dyes: the ice-cream "everything bagel," which does indeed look astonishingly bagel-like. "We will probably stop using [the dye] immediately because we don't want any problems," Dufresne told Grub Street. "We use some caramel coloring and there appears to be some concerns with that as well. We're just going to stop." So what will he use instead? "A little bit of vegetable ash, dilute it with water, and see if we can't get the necessary shade that we're looking for," Dufresne said, thinking aloud. "I'm fairly certain we can get the proportions right."