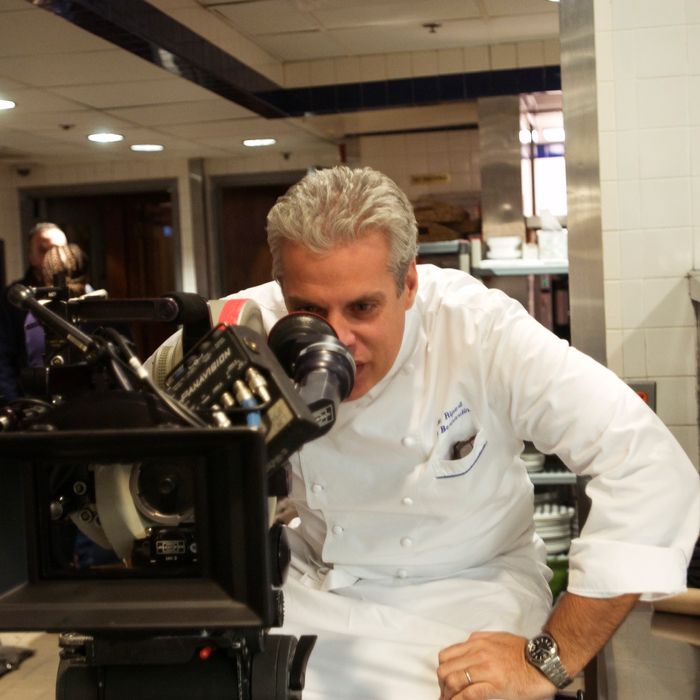 No, he's not directing … yet.
Photo: Jed Egan/Copyright,
This past weekend, HBO's Treme took over Le Bernardin to shoot scenes for its upcoming second season. That meant chef Eric Ripert — who had a cameo in the first season — will again be playing the role of … chef Eric Ripert. We crashed the usually sterile kitchen, which was transformed into a production studio and set — the restaurant's own staffers played extras and Ripert himself was a total wreck. We can't reveal too much, but the scenes were not easy by anyone's standard. Yet once his lines were said and done, the chef was able to unwind, beaming like a birthday boy, taking pictures on his iPhone, and drinking a Diet Coke with a big smile. Check out our Q&A; with him about his budding career as an actor, then take a look at our behind-the-scenes slideshow. (There's a very minor spoiler, but if you watched the first season of the show, you probably already saw it coming from a mile away.)
Congratulations, you can act.
Oh, no, not really! I don't have an agent for acting; I'm a chef! Look, I'm very excited and happy, at the same time; it's very difficult and stressful for someone who is not trained as an actor to even to play myself. I have to speak good English which is not what I speak, usually. Otherwise they'd need to subtitle me! I have to study my posture and being expressive; I'm like, really overwhelmed!
Any similarities being an aspiring actor and an aspiring chef?
Well, yes. Today reminded me of walking into the kitchen for the first time as a new employee. You have that intensity, it reminds me of that very much. Like the way you don't want cut your finger right away, you don't want to have 25 takes.
I hear you came to set quite prepared.
Well, I couldn't remember my lines; I was scared. So I asked my son, who's 7 years old, to do it as a play with me, and that finally worked. I told him to tell me if I changed any words. He kept saying, "No, dad, not like that!!!" At 7, he could learn the lines easier than me. I've been walking through Central Park, saying my lines to myself. In bed, I dreamt about them. But then you show up in front of people and just freeze.
Do you mind wearing all the makeup? [It's hard not to notice his perfectly dark, creamy skin.]
No!! I don't put makeup! This is just my face! Olive oil, honey, fish oil, and my mom's good genes. Or maybe it's because I just came back from Vietnam and Cambodia.
Can you believe your life?
No. Never in a million years would I have believed any of this. I went into cooking for passion for eating and cooking. Then destiny and luck happened, and I am where I am. You have to be humble, though. Sometimes you think people know who you are … like sometimes people say to me, "Oh my God, I love your food." But then they say, "Wait, what's your restaurant?" In New Orleans, a couple was looking at me, like obsessed with me. My sous-chef was like, "You see? They know you!" So they came over and said, "Excuse me, your watch, it is Vacheron Constantin?" I had to laugh.
You must be treated like royalty when you walk into a restaurant, though.
Not really. Last night, at Dressler in Brooklyn, I sat inside Siberia. I was the last seat before the bathroom. But you can sit me in the bathroom and I'm fine. I'm not like that.
Even Eric Ripert is eating in Brooklyn!!
Yes, why not? I wanted to check it out. I love eating, having fun, seeing new concepts. They have a great reputation. My food was amazing. I had an incredible lamb shank … wow … it was really good.
By the way, do you even watch TV?
Yes, I watch Treme, of course. Sopranos, Top Chef, Charlie Rose, and David Letterman. I DVR Charlie and Letterman because they're on at the same time, and I can't miss either.
What about movies — is "movie star" your next goal?
Asking me right now, you're going to have a negative answer, because I suffered so much this morning.
Maybe there should just be a movie about you. Who would play you?
It has to be someone with white hair! Maybe Bourdain!
Tell us something no one knows about Bourdain.
He's consulting on Treme, actually. He's helping them with food scenes. Also, he's very loyal in friendship and a very true person. But the real secret about him is that he's a workaholic. I think people assume he's very debonair and always looking for fun, but he's very, very serious about working. He's always on time. He's obsessed with being on time, actually. Like, he's always a half-hour early for everything. It's no miracle why he's so successful. He's not partying every night, no way. I mean, he's not a priest … he's Anthony Bourdain!