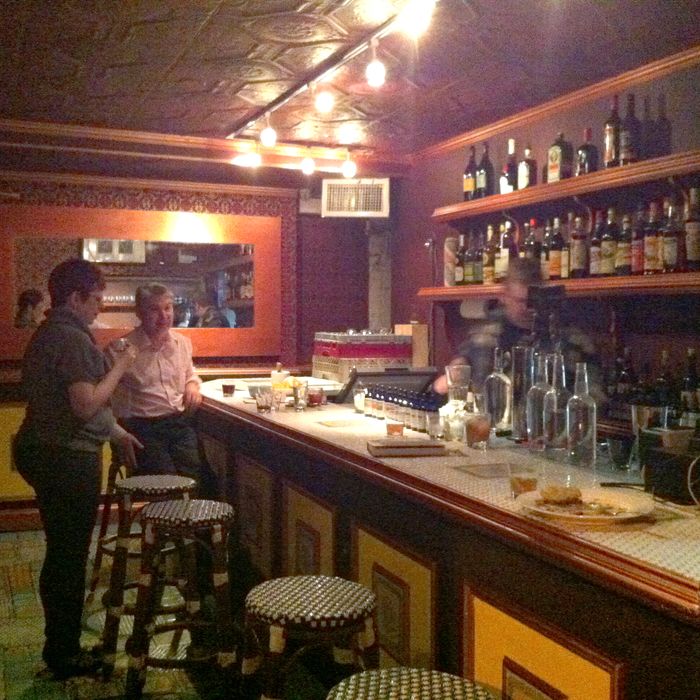 For the latest addition to his Cienfuegos complex, Ravi DeRossi has partnered with the Brooklyn-based bitters company Bittermens to create Amor y Amargo, which swings its shutter up tomorrow evening. The drinkery will be New York's first bar focused on bitters, and you can expect bitters-laced cocktails, tasting flights (a little Fernet, anyone?), plus Mayur Subbarao's housemade sweet vermouth on draft.

To complement all this: a special menu of Spanish-leaning bites from chef Luiz Gonzalez, including tortilla espanola and fried garbanzos with morcilla. A tipster snapped some photos for us over the weekend, and you can see that the former Carteles space hasn't changed too much, though there are now shelves of barware and bitters for sale, including special Bittermens flavors not available elsewhere. Coming soon: cocktail classes (schedule here) and a once-a-week chef's table for eight, "a five-course Latin-influenced dinner with paired cocktails," as DeRossi describes it. The bar opens at 5 p.m. Monday through Friday, 3 p.m. Saturday, and it's closed Sunday. Take a peek at the cocktail-and-food menu below.
Amor Y Amargo

Opening Menu - March 2011

Negronis - $12
A three ingredient cocktail featuring a vermouth, a spirit, and a strong bitter.
Classic - with Campari and sweet vermouth.
Bartender's Choice

Tequila Gibson - $12

House-made amber vermouth

Reposado Tequila

Cocktail Onion

Bittermens Boston Bittahs

Bittermens Orchard St. Celery Shrub

Red Envelope - $12
Ford Mixology Lab, San Francisco.

Gin

Averna & aperol

Benedectine

Bittermens Burlesque

À L'Ancienne - $14
Cognac old fashioned with Bittermens Spiced Cranberry Citrate

Bittmerns Xocolatl Mole Bitters

Fizzy Drinks - $12

Bittermens House Gin and Tonic
With gin, tonic water, maraschino, and Bittermens Hopped Grapefruit Bitters
Orchard Street Cel'ry Soda
Applejack, Genever, club soda
Bittermens Orchard St. Celery Shrub & Bittermens Peppercake Bitters

Françause Four-Play
Bonal Quinquina, Yellow Cartreuse, Cognac, Lillet Blanc, club soda, Bittermens Hellsfire Shrub & a lemon twist

Mud Season
Zucca Amaro, Mirto, Sweet Vermouth, Rhum Agricole & Bittermens Hopped Grapefruit Bitters

Second Sip - $12
Brian Miller, NYC.
Not for the faint of heart.
Scotch, House-made Sweet Vermouth

Tawny Port, Fernet Branca

Bittermens Xocolatl Mole Bitters

Flights

Apertif - $12
Campari, Aperol, Gran Classico
Francophile - $16
Yellow, Green and VEP Charteuse
Digestif - $12
Fernet Stock, Fernet Branca, Fernet Mentha
Select Three - MP
Select three amaros of vermouths at market price.

Draft

Cocktail of the Day - $12
Americano. Sweet Vermouth, Campari & Soda.

Beer - $6
A rotating British or British-style bitter.

Sweet Vermouth - $4 (Copa) or $8 (Jarra)
Made by Beverage Director Mayur Subbarao. On the rocks in the Spanish style.
An adult version of sangria.

Snacks
$6 - Torta Española. Crispy Garbanzos With Morcilla. Olives. Patatas Bravas.
$8 - White Bean Salad With Oil-Poached Tuna. Piada. Artichoke and Almond Salad.
$10 - Cheese and Cured Meats.
Amor y Amargo, 443 East 6th St., nr. Avenue A