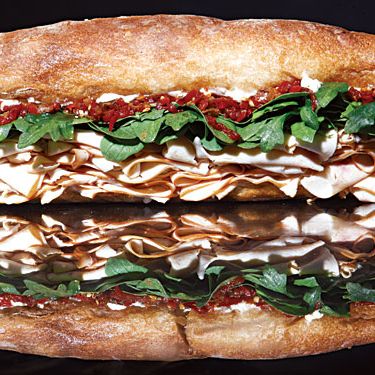 Photo: Photo: Hannah Whitaker/New York Magazine
At its most elemental, the sandwich is an efficient delivery system for protein, carbs, and maybe a few vegetables, requiring just two pieces of bread and a pair of hands to consume. But in modern New York, the sandwich has evolved into something else entirely. It's not just sustenance — it's baguettes blobbed with sea-urchin roe and smeared with Korean-mustard-oil butter, milk-braised turkey leg on Pullman, oak-smoked salami squished into an onion roll. Joining the city's classics — the hillock of carved pastrami piled onto twin slices of rye at Katz's, say, or El Sitio's venerable Cubano — they make for a particularly rich moment in the city for stuff between two slices of bread. In the accompanying slideshow, we celebrate all that is great about the endlessly evolving New York sandwich including a drool-inducing paean to what happens when lunch becomes dessert. The sandwich, of course, is nothing if not versatile. Plan a month of lunches by viewing our slideshow, then enter a Grub Street Sandwich-inspired Sweepstakes for a chance to win fabulous, edible prizes.
Plus: Top sandwiches for Los Angeles, San Francisco, Philadelphia, Boston, and Chicago.