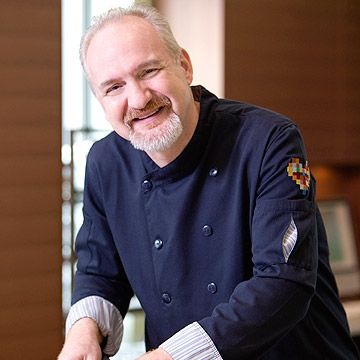 Happy birthday!
Photo: chefartsmith.com
We are somehow not surprised at all that Art Smith is upping the ante on his annual Common Threads-supporting birthday party by throwing his 50th anniversary fete at Soldier Field this March 1. We do balk somewhat at the $250 price tag, but considering the benefit nature of the evening and the insane lineup of superstar culinary talent (basically every big-dealer in town, plus special guests like Nigella Lawson, Barbara Lynch, Hubert Keller, and Michelle Bernstein), we can see how it could be worth it. Keep reading for the complete list of participating chefs:
Ready? Deep breath:

Jimmy Bannos, Jr., The Purple Pig; Jimmy Bannos, Sr., Heaven on Seven; Rick Bayless, Frontera Grill/Topolobampo; Michelle Bernstein, Michy's; Greg Biggers, Fulton's On The River; Graham Elliot Bowles, Graham Elliot; David Burke & Rick Gresh, David Burke's Primehouse; Domenica Catelli, Catelli's; Maneet Chauhan, Vermilion; Christophe David & Frederic Moreau, NoMI; Radhika Desai, Top Chef Season 5; Curtis Duffy Avenues at The Peninsula Chicago; Patrick Fahy, Blackbird; Ben Ford, Ford's Filling Station; Gale Gand, TRU; Troy Graves, Eve; Koren Grieveson, Avec; Sarah Grueneberg, Cafe Spiaggia; Carla Hall, Top Chef Season 5; Jason Hammel & Lea Tshilds, Lula Café; Roger Herring, Socca; Kevin Hickey, Four Seasons; Ingrid Hoffmann, Food Network & Galavision/Univision; Brian Huston, The Publican; Suzanne Imaz & Martial Noguier, Sofitel Chicago; Stephanie Izard, Girl & The Goat; Gavin Kaysen, Café Boulud; Bill Kim, Belly Shack & Urban Belly; Peter Klein, Seedlings Farm; Josh Kulp & Christine Cikowski, Sunday Dinner Chicago; Jaime Laurita, Celebrity Food & Mood Guru; Allie & Rob Levitt, Mado; Sarah Levy, Sarah's Pastries & Candies Inc.; Anita Lo, Annisa Restaurant; Barbara Lynch, Menton & No. 9 Park; Steve McDonagh & Dan Smith, Hearty; Jason McLeod, Balsan at The Elysian Hotel; Mark Mendez, Carnivale; Matthias Merges & Della Gossett, Charlie Trotter's; Carrie Nahabedian, NAHA; Chris Nugent, Les Nomades; Chris Pandel, The Bristol; Ryan Poli, Perennial; Tony Priolo, Piccolo Sogno; Bill Reynolds, Sikia; Toni Roberts, Nicole Pedersen & Marcus Samuelsson, C-House; Mario Santiago, May Street Café; Patrick Sheerin, The Signature Room at the 95th; Jackie Shen, Red Light; Kristine Subido, Wave Restaurant ; Giuseppe Tentori, BOKA; Melissa Trimmer; Nightwood; Ming Tsai, Blue Ginger; Rey Villalobos, TABLE fifty-two; Paul Virant, Vie; Carol Wallack, Sola; Daven Wardynski, 676 Restaurant; Carol Watson, Milk & Honey Café; Shelley Young, The Chopping Block; Andrew Zimmerman, Sepia; Randy Zweiban, Province.
VIP tickets for the March 1 event are $500 and include a private cocktail reception and an afterparty. The rest of us will pay $250, with tickets at both levels available here.