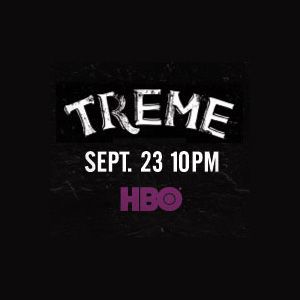 The HBO drama Treme chronicles the stories of New Orleanians as they continue to rebuild their city after Hurricane Katrina and struggle to preserve its unique culture. A city renowned for its bold flavors and Creole cuisine, New Orleans serves not only as a backdrop for the series, but becomes an intricate part of the story. Its restaurants and cafes continue to innovate and redefine the meaning of southern hospitality in the aftermath of the engineering failure and flooding that led to the near-death of the city. Featuring the work of local chefs, such as Susan Spicer and John Besh, as well as some of the culinary industry's most sought-after talent, Treme returns this Fall to show us that a good meal can feed much more than just the soul.
Jonathan Waxman


Widely credited for introducing New York to the farm-forward flavors that have taken modern menus by storm, Jonathan Waxman has come a long way since abandoning his first career as a professional trombonist in 1970 to enroll in cooking school.
A self-described California boy, Waxman soon found himself behind the lines at some of California's most prestigious kitchens, from Chez Panisse in Berkeley to Michael's in Los Angeles. It wasn't long before he brought the west coast's ingredients-obsessed ethos out east with his first New York City restaurant, Jams, which quickly earned him a reputation as one of Manhattan's newest culinary stars.
Today Jonathan Waxman is the chef and owner of Barbuto in the West Village where his aggressively seasonal menu (it changes nearly every day) continues to be a favorite for locals, visitors and celebrities alike. For his contributions to the culinary world Waxman has been named one of the most influential Americans by Esquire magazine and continues to receive accolades for his charitable contributions to City Meals on Wheels.
Keep your eyes open for Jonathan Waxman's upcoming appearance in the season premiere of HBO's original series Treme on Sunday, September 23rd at 10/9c.
Alfred Portale


Chef Alfred Portale is a culinary creator, innovator and architect whose heart belongs to the very restaurant where his career began 25 years ago - Gotham Bar and Grill. Only a few months after reviving the sagging restaurant with his so-called "architectural" approach to food, Portale earned Gotham its first 3-star New York Times rating with many more awards to follow.
Portale's dedication to sourcing quality ingredients from small farms and specialty purveyors has made him a leading figure in the New American Cuisine movement, marking a return to the simple pleasures of quality ingredients fused with French technique.
Whether visiting relatives in his hometown of Buffalo, New York or at home with his family, Portale is never far away from the kitchen and stays actively involved in charities dedicated to providing food for the needy.
Don't miss Portale's appearance on the season premiere of the HBO hit series Treme, Sunday, September 23rd at 10/9c.