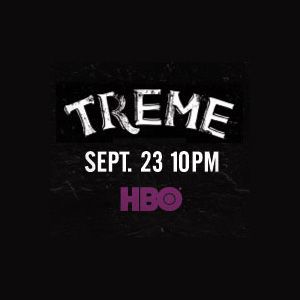 The HBO drama Treme chronicles the stories of New Orleanians as they continue to rebuild their city after Hurricane Katrina and struggle to preserve its unique culture. A city renowned for its bold flavors and Creole cuisine, New Orleans serves not only as a backdrop for the series, but becomes an intricate part of the story. Its restaurants and cafes continue to innovate and redefine the meaning of southern hospitality in the aftermath of the engineering failure and flooding that led to the near-death of the city. Featuring the work of local chefs, such as Susan Spicer and John Besh, as well as some of the culinary industry's most sought-after talent, Treme returns this Fall to show us that a good meal can feed much more than just the soul.
Eric Ripert


The force behind NYC's legendary Le Bernardin, French-born Eric Ripert is a true master of masters. After a brief stint working alongside David Bouley in 1991 Ripert became Le Bernardin's executive chef, quickly earning it a reputation as "the Temple of Seafood."
In 1995, at just 29 years old, Ripert earned Le Bernardin a four-star rating from The New York Times, which has since become the only restaurant to maintain the same status without dropping a star for ten consecutive years. In 2005, New York magazine declared Le Bernardin the number one restaurant in the city and the following year it was awarded the maximum 3 Michelin stars for excellence.
Aside from cooking his award-winning dishes, Ripert has appeared everywhere from Regis & Kelly to the Late Show with David Letterman. In addition, Eric is the chair of City Harvest's Food Council, working to bring together New York's top chefs and restaurateurs to raise funds and increase the quality and quantity of food donations to those in need.
Watch Ripert in action during the season premiere of the HBO original series Treme, Sunday, September 23rd at 10/9c.
Anthony Bourdain


The executive chef of Brasserie Les Halles in New York City, Anthony Bourdain is the anti- celebrity chef, rarely (if ever) seen in starched, white jackets or fancy hats. He is, however, an exceptional cook, brilliant writer and possesses the infectious passion for food that has created millions of gourmet fans around the world.
In 1956, Bourdain graduated from the world-renowned Culinary Institute of America before running restaurants in New York City - including the Supper Club, One Fifth Avenue and Sullivan's - and finally landing at Brasserie Les Halles in 1998.
Two years later, Bourdain published a scathing exposé of NYC restaurants, Don't Eat Before Reading This, followed by Kitchen Confidential. Those books soon became his launch pad for a series of high-profile culinary projects that would take him around the world. His No Reservations travel show is not merely a globetrotting celebration of cuisine, it is cultural journalism of the highest order, providing rare insight into the state of the world through the commonality of food and culture.
Most recently, however, Bourdain partnered with HBO on its hit series Treme. He is writing the foreword for the show's highly anticipated cookbook, set to hit stores in Spring of 2013.