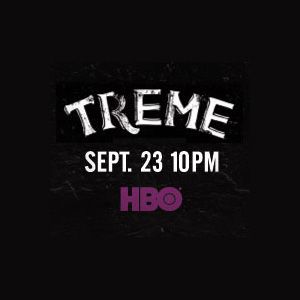 The HBO drama Treme chronicles the stories of New Orleanians as they continue to rebuild their city after Hurricane Katrina and struggle to preserve its unique culture. A city renowned for its bold flavors and Creole cuisine, New Orleans serves not only as a backdrop for the series, but becomes an intricate part of the story. Its restaurants and cafes continue to innovate and redefine the meaning of southern hospitality in the aftermath of the engineering failure and flooding that led to the near-death of the city. Featuring the work of local chefs, such as Susan Spicer and John Besh, as well as some of the culinary industry's most sought-after talent, Treme returns this Fall to show us that a good meal can feed much more than just the soul.
Wylie Dufresne


Ever since Wylie Dufresne first fired up the stoves at wd50, his tiny Lower East Side restaurant, the celebrities have been lining up. After just five months, Dufresne, then 29, had a three-week waiting list for dinner and hasn't looked back since. Incorporating science and new, cutting-edge techniques it's no mystery why he quickly became the beloved protégé of Jean-Georges Vongerichten before venturing out on his own.
But before giving birth to dishes like pickled beef tongue with fried mayonnaise, Wylie received his bachelor's degree in philosophy, a far stretch from slaving away in a hot kitchen. While studying Nietzsche and honing his critical thinking skills he took a summer job before his senior year grilling pizzas in Providence, which is where he first found his calling. "I loved the buzz and seeing the customers' reaction to the food," he said. "Now it's like being on a basketball team practicing all day. Come service time, the game starts."
Be on the lookout for Wylie in the premiere of the HBO original series Treme on Sunday, September 23rd at 10/9c.
David Chang


In a town overflowing with precious temples of gastronomy, Chang has defiantly carved out a tasty, idiosyncratic middle ground with inventive new riffs on traditional Asian flavors. In less than two years, Chang shot from obscurity to a James Beard nomination with the success of his storied Momofuku Noodle Bar and has touched off a wave of imitators, sending phrases like "Berkshire pork" and "housemade pickles" reverberating across menus around town.
A 32-year-old from Virginia, Chang's checkered background - studying religion in college, golfing competitively, teaching English in Japan - finally led him to the restaurant industry where he started out answering phones at Tom Colicchio's Craft restaurant. After a brief stint at Café Boulud, he opened his first restaurant in 2004 and is now embarking on his first restaurant outside the U.S. in Sydney, Australia.
Despite his notorious "bad boy" attitude (no reservations, no vegetarian options), Chang's talent has catapulted him to stardom earning him a coveted spot on Time magazine's 100 Most Influential People in 2010.
In the HBO Original series Treme, Chang plays the Chef/ Owner of "Lucky Peach", the restaurant created for the show based on Chang's NY flagship, Momofuku. "It was a surreal experience", said Chang, describing the experience of walking onto the set built in a New Orleans warehouse that so closely resembled his NY restaurant.
Watch David Chang return to the Treme in the season premiere Sunday, September 23rd at 10/9c.