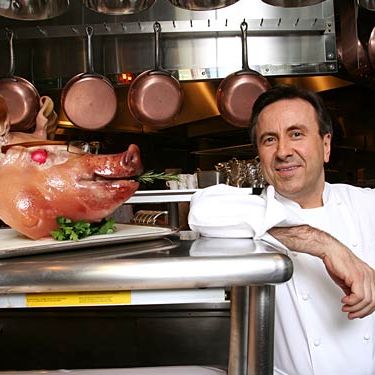 "The butcher at Daniel is from Mexico; at least once a week he cooks a Mexican specialty for staff lunch."
Photo: Melissa Hom
When we asked the great Daniel Boulud what he's eaten this week, we were secretly hoping to hear confessions of Seven Layer Burritos at Taco Bell. We shouldn't have been surprised when he reported that, with exceptions like Sunday brunch and the occasional sushi splurge, he eats 75 percent of his meals at his own restaurants. Luckily that didn't make his food journal any less fascinating; not only did he give us the scoop on some spring menu additions and his new line of spices available this fall, but he actually did scarf a burrito.
Thursday, March 22
Breakfast is always Kashi cereal with skim milk and coffee. On the two or three days per week that my trainer comes, he brings me a fresh cucumber-and-carrot juice.
The butcher at Daniel is from Mexico; at least once a week he cooks a Mexican specialty for staff lunch. Today he served poached pig's head in a burrito with sour cream, cucumbers, and jalapeño.
Wednesday, March 21
My daughter had a doctor's appointment. Sushi Yasuda was packed. I told Yasuda, "I only have twenty minutes to eat." I had fifteen different kinds of sushi including some amazing long, yellow Japanese calms (he doesn't really slice them; he cuts them in very small squares), wild salmon, Tasmanian trout, Alaskan white king salmon, toro, and eel. It was the first time I had an oyster on sushi — a West Coast oyster split in half and put right on the sushi.
Around 6:30 p.m. I had to taste two new dishes we are testing for the spring menu at Daniel: The first was halibut with asparagus marmalade, radishes with sarawac pepper and curried crème fraîche. We're just putting asparagus on the menu; they're starting to be very good. Then we tasted the jambon persillé: We make a fresh ham which is cooked Parisian style; after it's diced and pressed into a terrine with the gelatinous cooking jus and herbs, we serve it with a little bit of pork cheeks and slab of bacon. That's going to be an appetizer.
Then I tasted spice mixes for my new spice collection [available in October or November]. It was the second round of balancing. We tried it out on roasted pork, fish, and chicken. For fish, I wanted something a little Middle Eastern, so I have a blend of cumin, coriander, crushed cayenne pepper, zatar, sumac, anis seed, anis fennel, anis star. Saffron gives it color and a light sweet flavor. Then I have one for a burger. It has a little smokiness to it; it's almost like a barbecue mix that has smoked paprika, black pepper, onion seed, brown sugar, cumin, smoked salt, black mustard seed. For barbecue rib and chops, I have fourteen blends of spice: ginger, oregano, nutmeg, garlic powder, chipotle, ancho chile, chipotle chile, red chile, paprika, brown sugar …
Tuesday, March 20
I ate in my office in the kitchen of Daniel. I wanted to have the first baby peas, pencil asparagus, and morels we had just received, so a sous-chef made me pasta with the spring veggies, some bacon, olive oil and Parmesan. I told him to make me an Alfredo without the cream. I eat light: My typical lunch is a bowl of soup or a salad.
I went to the the Inn late night after service at Daniel. The chef Andy Bennet used to work for me; I found him the job. I'm helping them make sure he can fly on his own. One of my partners there is Canadian, and I guess he has a little bit of Greek in him. In Greece they make that kind of lamb burger with the Feta cheese. Here we did it with the goat cheese.
Monday, March 19
At DB Bistro Moderne, I started with a tart flambé — a thin crispy-crust French pizza with crème fraîche, smoked bacon, and onion. I think it's the best one in the entire country. Then a Moroccan tuna tartare with cucumber, chickpeas, and harissa.
Sunday, March 18
I had brunch at Balthazar. I go very often; I call them from my car and say, "Whenever you think you have a table, I'll drive down." They'll feed me in the kitchen; I'm family there — the chefs Riad Nasr and Lee Hanson used to work for me. I had a shellfish platter followed by steak and eggs and great fries. You don't want a French fry to be too crispy inside — and you have to choose a good potato. My steak was sirloin, but it was super-juicy and tender.
For the past ten years we've had a gala every spring for Citymeals-on-Wheels. While I was cooking in the kitchen, I went around every chef's table and tasted their hors d'oeuvre. Morimoto had a bologna sushi, some wonderful Japanese mackerel, and toro. He lightly seared Japanese scallops — they were huge, five inches wide — and made a sushi with it. I loved the shrimp and pork dumplings from Chinatown Brasserie — Joe Ng is Vietnamese, and his dumpling is a little bit more delicate than a Chinese dumpling. The sugarcane wrapped around the rib-eye from Mai House was very delicate and cool. One of the best ones was Floyd Cardoz of Tabla's Bombay potatoes and goat-cheese dumplings with a mint chutney. The goat cheese was tart, the potato sweet, and the mint chutney was sweet.
To raise $1.1 million on a Sunday night is stressful. But at least I could work, eat, and drink at the same time!