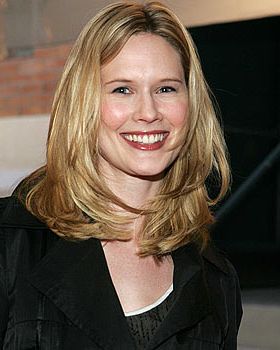 "I eat raisins, cocktails, olives, and Goldfish."
Photo: Photo: Patrick McMullan/Photo-Jimi Celeste/PMc
Stephanie March plays assistant district attorney Alexandra Cabot on Law & Order: Special Victims Unit and is appearing in 30 Rock.* This week, she had Wagyu-beef at Craftsteak and raisins and cigarettes at home.
Stephanie March
Actress
I eat out two nights in a typical week. There are probably three nights that I eat raisins, cocktails, olives, and Goldfish, which is what we have in the apartment. Bobby's [Flay, March's husband] assistant, Stephanie, gave him a panini maker a couple years ago, so I crank those out with whatever is in the fridge. Last time it was an heirloom tomato that had already been cut open, organic prepackaged ham, and American cheese.
At Craftsteak with Bobby, I had the Wagyu-beef twelve-ounce strip, with collard greens and a salad of baby lettuce. I polished it right off. They made the mistake of sending two desserts: a peanut-butter chocolate cup and panna cotta with fruit. We had to be polite and eat them.
The next day I had Goldfish and an apple, then went to a cocktail party with Bobby, where I had some shrimp and a couple mussels.
We then tried to go to Mr. Chow, but they wouldn't let us have a cocktail at the bar [without ordering food]. We ended up at Landmarc, and because they were so nice, we stayed for dinner. They're very warm, very low-key. I had roasted asparagus with a poached egg on top and Parmesan cheese. Bobby had the sirloin salad.

Bobby's cooking a Moroccan dinner for a couple friends of ours tonight: tajine with chicken and grilled lemons and couscous with dried fruits. Dessert will be a late-summer, Middle Eastern–inspired cobbler. I'm going to be a chowhound, so tomorrow it'll be raisins and cigarettes again.
—As told to Daniel Maurer
* Correction, September 25, 2006: We originally wrote that March is appearing in Studio 60 on the Sunset Strip, not 30 Rock.