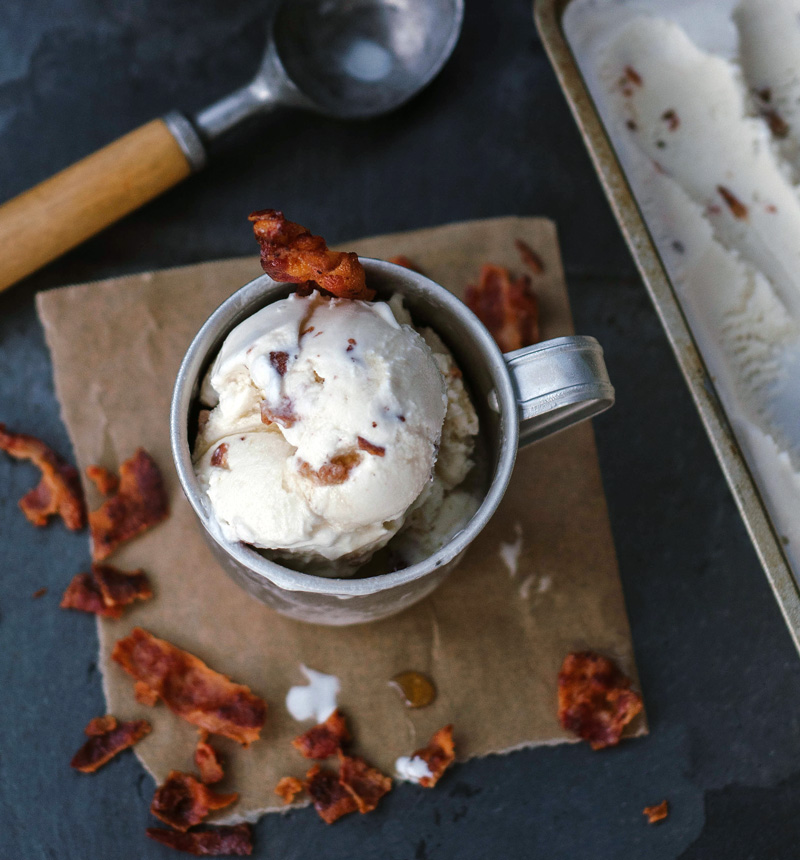 Whiskey. Ice Cream. Bacon. Three of the greatest things in the world. Luckily, there's a way to marry them in a dessert that's about to blow your taste buds away. Start with a velvety custard base. Add a pour of hand-selected whiskey from Jack Daniel's. By the time you get to the bacon, no other ice cream compares.

SINGLE BARREL MAPLE BACON ICE CREAM
(makes 1 generous pint)
2 cup cream
1 cup whole milk
1/2 cup white sugar
4 egg yolks
1/2 cup maple syrup
1/4 tsp. vanilla extract
1 tbsp. Jack Daniel's Single Barrel Whiskey
5 strips bacon
2 tsp. light brown sugar
Simmer cream, milk and sugar in a small pot until sugar dissolves. Remove pot from heat.
Whisk egg yolks in a bowl. Keep whisking as you add about a third of the hot cream mixture into the yolks — pour slow and whisk fast or you'll end up with scrambled eggs. Then whisk the yolk mixture back into the pot of cream. Again, whisk aggressively to avoid lumps.
Cook over medium-low heat, stirring, until the mixture thickens into custard. Don't let it boil. It's done when it coats the back of a spoon.
Strain the custard into a bowl.
Stir in the maple syrup, vanilla extract and Single Barrel whiskey. Cover and refrigerate at least 4 hours, or overnight. (Tip: for faster chilling, pour custard into a plastic freezer bag, seal the bag and submerge it in ice water for 25 minutes.)
Cook the bacon while custard base is chilling. Preheat oven to 400°F. Lay the strips of bacon on a baking sheet lined with foil. Sprinkle 1 tsp. of brown sugar evenly over the strips. Bake for 12-16 minutes, turning midway through and sprinkling with remaining brown sugar. Cool on a wire rack and, once cooled, chop into bits.
Churn in an ice cream maker according to the instructions. Add the crumbled bacon in the last minute or two of freezing.
Serve from the machine for soft serve, or keep in a container in the freezer until firm.
Find more recipes, whiskey notes and stories at The Single Barrel Standard.