In 2007, three Georgetown students shook things up in Washington D.C., a city synonymous with the intricacies of politics, with one simple idea: Sweetgreen, a restaurant serving organic, tricked-out salads. Since then, Nicolas Jammet, Jonathan Neman, and Nathaniel Ru have been heralded as shrewd businessmen and cultural visionaries, whose brand even extends to a music festival. Having opened their twenty-fifth Sweetgreen (in lower Manhattan), they chatted with us about everything from block parties to obscure radishes.
Why they started Sweetgreen in D.C.
"We actually liked D.C. because we thought we were solving a problem of healthy eating. There was nothing like it at the time. Then, we just wanted to keep our momentum going—there was efficiency in clustering stores, in creating a brand. We really designed Sweetgreen for the community."
—Nathaniel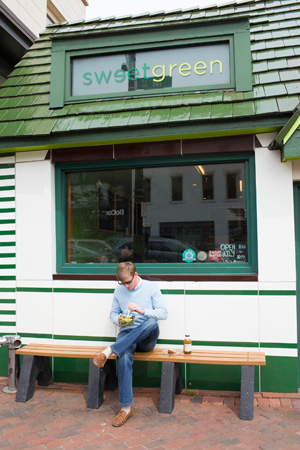 Their favorite D.C. hangouts:
The Bishop's Garden The Mall, lit-up at night Union Market Phillips Collection
How to procure your very own Sweetgreen bike:
"You have to work for the company for three years and then you get your own bike."
—Jonathan
Nicolas's parents owned the James Beard Award-nominated La Caravelle, and Joe Bastianich is a Sweetgreen investor. So, how did they come up with their menu?
"In senior year, we started toiling around in our dorm. Our vendors had theses weird looks on their faces, like, 'Why am I dropping samples off in a dorm room?' We tested combinations that had great flavor and texture balances out on our friends."
—Nicolas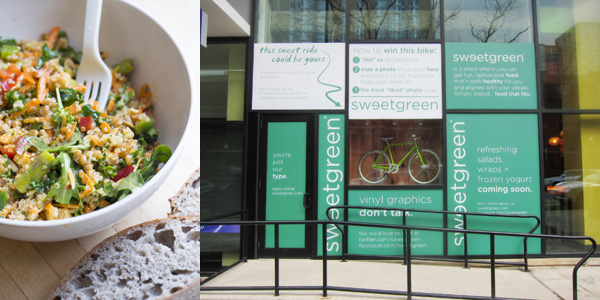 The most underrated vegetable:
"The watermelon radish. It's a little sweeter, and when you cut into it, looks really cool—like, bright pink or red."
—Nicolas
"I'm a big fan of broccoli. Broccoli done right is pretty amazing."
—Jonathan
"Green scallions are always in Chinese food. They have a pretty wide range, but don't get the credit."
—Nathaniel
Their favorite D.C. restaurants:

Izakaya Seki Thai X-ing Eat the Rich DGS Delicatessen Tabard Inn
Do they have any famous fans?
"Ummmmm…"
—Jonathan
"Our mothers?"
—Nicolas
The strangest requests they've ever gotten on riders for their Sweetlife music festival:
Haribo Gummi Bears (no other brand will do) A lightly grilled chicken breast—no salt, no pepper One loaf of wheat bread and nothing else except water Kool-Aid and rainbow Jell-O Hanes underwear in size medium
The connection between music and green food:
"When you listen while eating, music creates this emotional connection to food. With our second store, we used music to attract customers: playing music outside, which turned into a block party. That's kind of how Sweetlife started."
—Jonathan