What to Eat at Racines, a Paris Wine Bar That Just Opened in Tribeca
With a Michelin-starred chef.
This week, David Lanher opened the first Stateside outpost of his beloved Parisian wine bar, Racines, on Chambers Street. He's collaborating with Chambers Street Wines owner David Lillie, Provence-born sommelier Arnaud Tronche, and Michelin-starred chef Frédéric Duca, most recently of L'Instant d'Or in Paris. The well-edited food menu includes French dishes like veal tartare with warm mayonnaise, Mangalitza pork with pig's feet croquettes and ramps, and for dessert, poached pear with buckwheat ice cream. The extensive wine list focuses specifically on natural, organic, and biodynamic wines from small-scale French producers (and, even better, glasses start at $9). Take a look, straight ahead.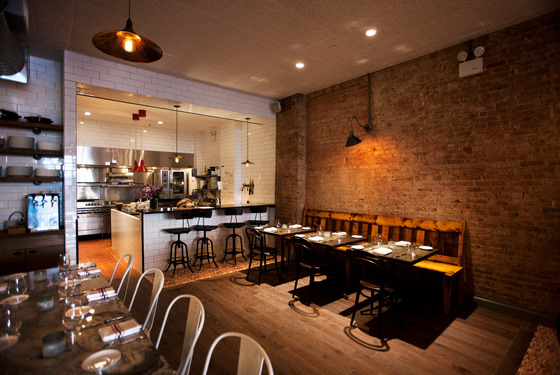 Menu [PDF]
Racines, 94 Chambers St., 646-644-6255