Chris Cosentino's Incanto Will Close and Reopen as Porcellino
The new format "won't be as ambitious as Incanto's current menu," says partner Mark Pastore.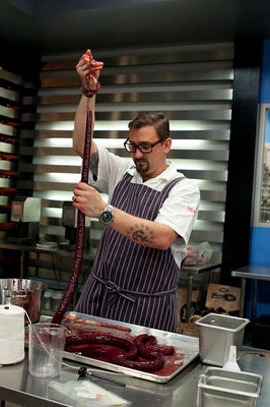 Along with his business partner Mark Pastore, chef Chris Cosentino — whom you may recognize as the winner of Top Chef Masters season four — announced yesterday that the 12-year-old San Francisco restaurant Incanto will close after service on March 24. Porcellino, which means piglet, will replace the restaurant this spring. The incoming concept will be a combination of what Pastore describes as a "more casual" restaurant with a retail component stocked with take-home prepared foods, a selection of oils and cheeses, and the line of charcuterie Cosentino sells under the name Boccalone.
Pastore tells Inside Scoop that the food at Porcellino "won't be as ambitious as Incanto's current menu," but will be more attuned to what he and Cosentino say the neighborhood is looking for. "I want these next three weeks to be a celebration of what we've accomplished — and to say thank you to all the people who have supported us," he tells the site.
Incanto to close this month and be replaced by Porcellino [Inside Scoop San Francisco]