'Dumb Starbucks' Revealed to Be Comedy Central Show Gag
"I'm proud to announce we'll be opening our second Starbucks in Brooklyn."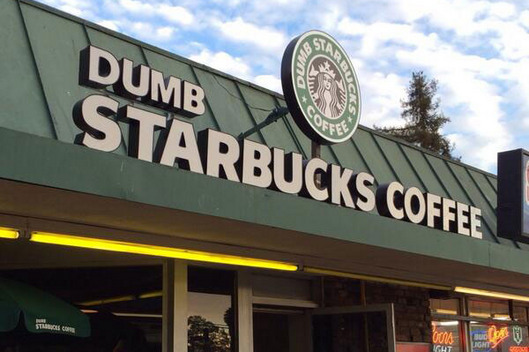 Yesterday afternoon, it was revealed that comedian and television host Nathan Fielder was behind the Dumb Starbucks store in Los Angeles. The shop has an identical look and ambiance of any of the world's many thousand Starbucks stores, save for the word dumb, which appears on everything from menu boards to drink cups to CDs. Fielder reiterated the message printed in Dumb Starbucks marketing materials, which claim that the shop qualifies as "fair use" under law and therefore may be able to keep on pouring Dumb Frappuccinos without fear of retaliation on the part of the coffee giant.
It's thought that the stunt, which drew hundreds of people to the strip mall over the past few days, may play some part in Fielder's Nathan for You series, and that his industrious team of production people will take the show on the road. "I'm proud to announce we'll be opening our second Starbucks in Brooklyn, New York soon ... This really caught on so I'm going to ride it out," said Fielder, right before county health-department officials descended upon Dumb Starbucks and shut it down for operating without the proper licenses.
width="560" height="315" src="//www.youtube.com/embed/Bo_deCOd1HU" frameborder="0" allowfullscreen="None">
UPDATED: Comedy Central's Nathan Fielder Behind "Dumb Starbucks" Stunt; Health Department Shuts It Down [Deadline Hollywood]
Earlier: 'Dumb Starbucks' Coffee Shop Opens in Los Feliz