GQ's '25 Best New Restaurants' for 2014 Includes Carbone and Dover
New York City nabs three spots on Alan Richman's annual list.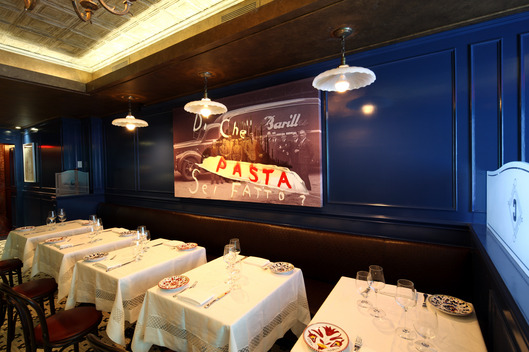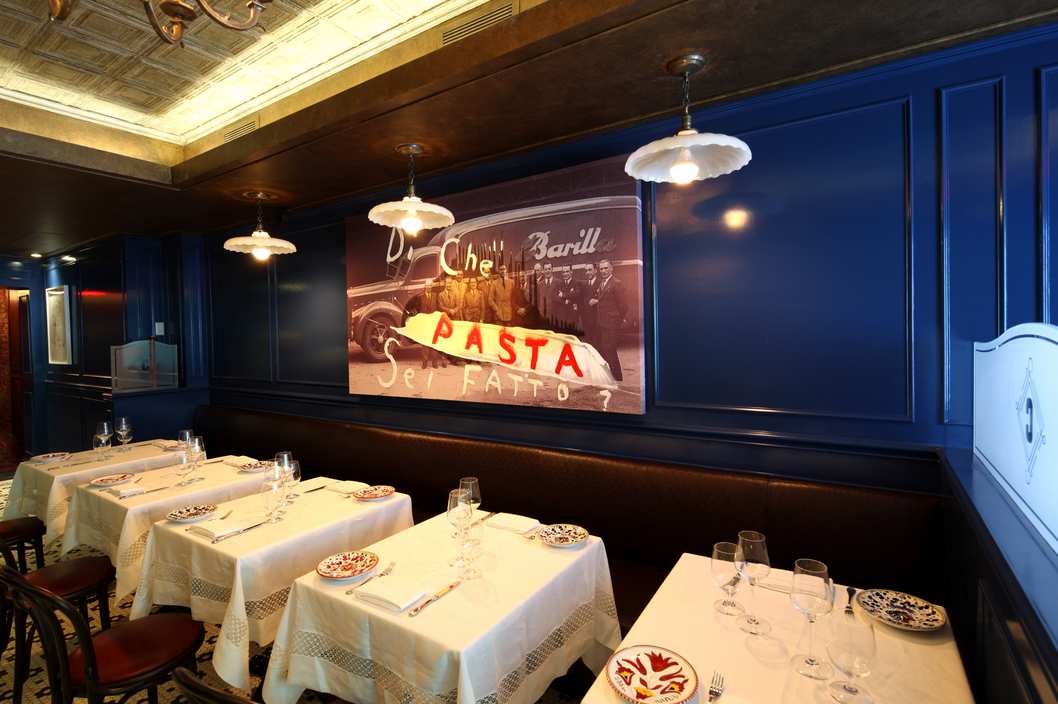 The magazine's food critic Alan Richman today files his blockbuster 25 Best Restaurants in America, 2014 list. The lineup, interestingly, includes a number of TV-friendly chefs: Former Top Chef contestant Kevin Gillespie ranks at No. 7 with Gunshow in Atlanta, Ludo Lefebvre of The Taste lands the No. 2 spot with Trois Mec in Los Angeles, and Top Chef's Paul Qui's namesake restaurant in Austin ranks at the very top. In New York, Ivan Orkin's stateside debut, Slurp Shop, part of the vast array of great food choices at Gotham West Market, edges in at No. 24, while Joseph Ogrodnek and Walker Stern's Dover comes in at ninth. Mario Carbone and Rich Torrisi's food, along with the theatrical tableside service at Carbone lands a spot the top five at fourth. Check it all out, straight ahead.
25. Pizzeria Vetri (Philadelphia, PA)
24. Ivan Ramen Slurp Shop (NY, NY)
23. Westward (Seattle, WA)
22. Row 34 (Boston, MA)
21. Sweedeedee (Portland, OR)
20. Chi Spacca (LA, CA)
19. The General Muir (Atlanta, GA)
18. Avance (Philadelphia, PA)
17. Le Penguin (Greenwich, CT)
16. Casa Luca (Washington, D.C.)
15. Daikaya (Washington D.C.)
14. Alma (LA, CA)
13. Le Barbecue (Austin, TX)
12. Bar Sajor (Seattle, WA)
11. Sir and Star at The Olema (Olema, CA)
10. Nico Osteria (Chicago, IL)
9. Dover (Brooklyn, NY)
8. Orsa & Winston (Los Angeles, CA)
7. Gunshow (Atlanta, GA)
6. Husk (Nashville, TN)
5. King + Duke (Atlanta, GA)
4. Carbone (NY, NY)
3. Roe (Portland, OR)
2. Trois Mec (Los Angeles, CA)
1. Qui (Austin, TX)

The Perfect Night Out: GQ's 25 Best Restaurants in America, 2014 [GQ]