Dunkin' Donuts Figured Out How to Make Cronuts
Dunkin' Donuts Korea puts a cronut knockoff into production.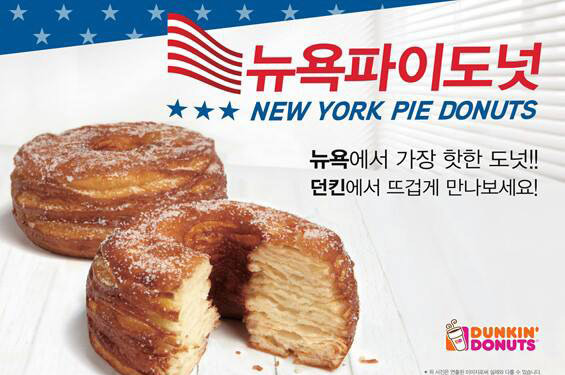 Today is a dark day indeed for cronuts, because as Quartz reports, they're now being mass-produced and sold at Dunkin' Donuts in South Korea under the name "New York Pie Donuts." Is global domination imminent?
On one hand, it's been almost three months since Dominique Ansel introduced cronuts at his Soho bakery and changed the pastry game forever. There have been all kinds of homespun homages and small-chain rip-offs, which some saw coming at least a few miles away. But on the other ... "New York Pie Donuts?" Really?
But yeah, the arrival of DunDoCronut has even spawned very long lines.

"According to one comment on the Facebook page for Dunkin' Donuts South Korea," Quartz notes, "customers were limited to two of the pastries per person."
The chain has even started "Donut Croissant" in Manila, apparently, but says there are "no plans to introduce them in the U.S. right now."

It took less than two months for Dunkin' Donuts to mass-produce the cronut [Quartz]
Earlier: Watch Anthony Bourdain Talk Cronuts
Earlier: Who's Ripping Off Cronuts Now?
Earlier: Dominique Ansel Launches the Cronut Project to Benefit Food Bank for NYC
Related: Introducing the Cronut, a Doughnut-Croissant Hybrid That May Very Well Change Your Life