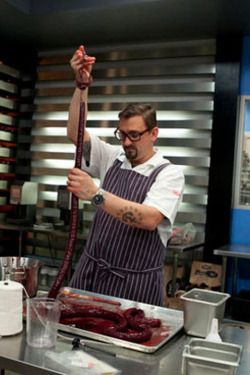 Chris Cosentino, the California chef and Top Chef Masters season-four winner, has been rumored to be working on an offal cookbook for a while now — and Clarkson Potter today tells Grub that they'll officially be publishing that book in spring 2015 (cookbooks take a while to write), with Emily Takoudes serving as the editor.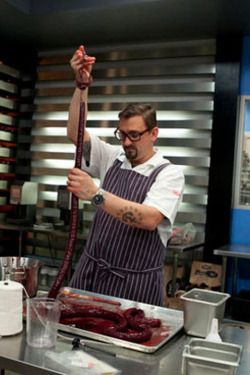 Given Cosentino's background as one of the most vocal supporters of the nose-to-tail movement, and the food at his San Francisco restaurant Incanto, the concept makes perfect sense. In fact, most people were surprised when Cosentino's first book, Beginnings, wasn't about off-cuts.
Per the official description of the new, yet-to-be-titled book, "Cosentino will focus on the delicious and overlooked cuts of meat in over 150 recipes, techniques, and lessons, with four-color photography throughout." Needless to say, it's a passion project for the chef. Here's Cosentino, from the same official wording: "Clarkson Potter — and Emily Takoudes in particular — has the guts to put out the book I have always dreamed of."