The Beckhams Brunch at Balthazar; Nicole Richie Chows Down at Old Homestead Steakhouse
Plus, Kirsten Dunst eats at Sant Ambroeus, Bar Refaeli at Jezebel, and more of this week's celebrity dining.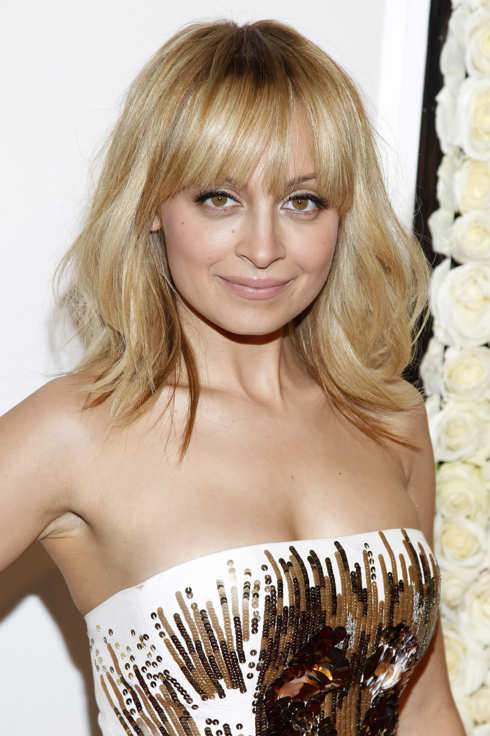 While the movie stars were away at the Toronto International Film Festival, the fashionable set played at New York restaurants and bars. This week, designers, actors, and actors turned designers headed to New York's finest dining and partying establishments from their front-row seats at NYFW shows. Michael Kors and Andy Murray dined separately at Hakkasan, Victoria Beckham brunched at Balthazar, and Nicole Richie chowed down on multiple steaks at Old Homestead Steakhouse. This and more, in our weekly roundup of celebrity dining.
Atlantic Grill: Monday, Katie Couric celebrated the debut of her ABC daytime talk show with her mom and a few colleagues. The group enjoyed a three-course meal and celebratory Champagne. [NYDN]
Balthazar: David and Victoria Beckham brunched at the Keith McNally restaurant Sunday with their 14-month-old daughter, Harper. The family had spent the morning at the New York Public Library, where Victoria showed her spring 2013 collection. [NYDN]
Bar Pitti: Vogue's André Leon Talley and basketball star and apparent fashion fan Russell Westbrook ate at the West Village Italian restaurant. Earlier, they had attended the Zac Posen and Ralph Rucci presentations. [Page Six/NYP]
Bistro Bagatelle: Kris Humphries exchanged numbers with an unknown blonde at the meatpacking district bistro Saturday night. He slipped his phone under the table in a (failed) attempt to be discreet about it. Humphries, the mystery woman, and two friends later headed to SL, where they partied until 3 a.m. [NYDN]
Hakkasan: U.S. Open winner Andy Murray celebrated his win with a late-night dinner at the Hell's Kitchen restaurant Monday. Murray and twenty friends dined on stir-fried Brazilian lobster tail and truffle-roasted duck after the restaurant closed. Everyone but the tennis champion, who drank lemon soda, helped rack up a $1,408 drink tab filled with Louis Roederer Champagne, martinis, and cocktails. The total bill came to $6,448, and the restaurant comped everything but the tip. [Page Six/NYP]
Hakkasan: Michael Kors went out for dim sum with his PR team Sunday. He was overheard talking up Madonna, whose Yankee Stadium concert he had attended the previous night, and the restaurant's glitter-brushed to-go macaroons. [NYDN]
Jezebel: Bar Refaeli and five friends had dinner at the kosher hot spot Tuesday night. She ordered the Crispy Skin Branzino with basquaise-style peppers and bouillabaisse sauce, and graciously took pauses from eating dinner to take pictures with other restaurant patrons. The group came in around ten and stayed until the restaurant closed. [Grub Street]
Old Homestead Steakhouse: Nicole Richie took a break from a QVC taping in the meatpacking district for a nineteen-ounce bone-in-filet. She was called back to QVC before she could finish her dinner, so later returned to the steakhouse for a second filet, a shrimp platter, creamed spinach, and garlic mashed potatoes. She ate all of it. [NYDN]
Sant Ambroeus: An upset-looking Kirsten Dunst and boyfriend Garrett Hedlund ate at the West Village restaurant Tuesday after watching the Rodarte show. The unsmiling pair smoked cigarettes in between bites of food. They then headed to the Rodarte party at Acme. [NYDN]
Webster Hall: Sunday night, J.Crew's Jenna Lyons attended the Opening Ceremony tenth-anniversary party with her girlfriend, Courtney Crangi, and a host of other celebrities, including Kirsten Dunst, Garrett Hedlund, M.I.A., Chloë Sevigny, Jared Leto, and Paris Hilton. Lyons was seen dancing with Crangi and giving another female guest a lap dance. [Page Six/NYP]