Leo Smokes Hookah at La Marina; LiLo Sips Coke at Rubirosa
Plus, Pippa Middleton at Catch, Rachel Zoe at Georgica, and more of this week's celebrity dining.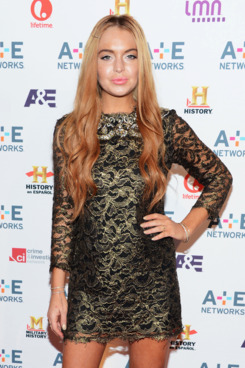 Summer is now effectively (if not officially) over, and this week, celebrities in New York made the most of the last weekend of the season while marking some more momentous occasions. Leonardo DiCaprio relaxed at La Marina, Melissa Joan Hart threw a baby shower at Make Meaning, and everybody had a good time at Lavo for Redfoo's surprise birthday party. Read about all the cause for celebration in our weekly roundup of celebrity dining.
Catch: On Saturday, Pippa Middleton headed to the meatpacking district for dinner at the popular seafood spot. Middleton and two friends shared a bottle of white wine and dined on rice cakes, crispy shrimp, salmon carpaccio, scallop dumplings, and some sushi rolls. [Us]
Electric Room: Middleton observed Labor Day with a night out at the club inside the Dream Downtown. While there, the British socialite ran into Gossip Girl's Chace Crawford. The two chatted for about ten minutes, but no sparks flew, and numbers were not exchanged. [Us]
Georgica: Rachel Zoe celebrated her 41st birthday (and a green-lit fifth season of her show perhaps?) at the East Hampton lounge over Labor Day weekend. Zoe's husband, Rodger Berman, rented out the restaurant's back porch for dinner with 26 friends. Baby Skyler stayed home. [NYDN]
La Marina: On Saturday, Leonardo DiCaprio took a break from filming The Wolf of Wall Street to smoke hookah and drink cocktails at the Washington Heights spot far from the financial district. [Page Six/NYP]
Lavo: On Monday, Motown founder Berry Gordy threw a surprise birthday party for son Redfoo. The older half of LMFAO (he turned 37) partied with about fourteen guests at the midtown nightclub. [Page Six/NYP]
Old Homestead Steakhouse: R.E.M. reunited for dinner at the meatpacking restaurant for the first time since splitting up almost a year ago. Band members Michael Stipe, Peter Buck, and Mike Mills reminisced over porterhouse steaks, macaroni and cheese, and creamed spinach, paired with martinis and Merlot. [Page Six/NYP]
Make Meaning: Melissa Joan Hart held a cake-decorating baby shower at the Upper West Side craft locale on Wednesday. The actress and twenty friends gathered for a carnival-themed celebration of her third pregnancy where, along with decorating cakes, they snacked on cupcakes from Baked by Melissa, frozen sundaes from Soft Serve Fruit Co., and Godiva chocolates. [Grub Street]
Rubirosa: Lindsay Lohan was on her best behavior during dinner with her mother, grandmother, and a group of friends on Tuesday. She stuck to drinking Coca-Cola and taking frequent cigarette breaks at the Nolita red-sauce joint. [Page Six/NYP]
Toy: SNL's Kenan Thompson was spotted at the meatpacking restaurant with wife Christina Evangeline and a group of her friends. Thompson ordered drinks for everyone and took some time out from his own party to greet fans. [Page Six/NYP]