Proposed Williamsburg Market Sounds a Lot Like Chelsea Market
An artisanal food emporium next to McCarren Park would make a lot of sense.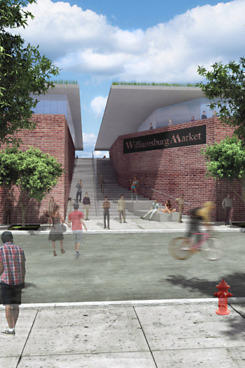 Curbed notices design studio Spacecutter's proposal for a food market with green roof on the western edge of McCarren Park that would be "much like Chelsea Market, but better." This utopian shopping emporium would feature "food vendors and stalls of various sizes," butchers, cheesemongers, grocers, and the like, and "surely, Momofuku & The Bedford Cheese Shop will want a spot there." The site — which seems to be at 12th and Berry — currently houses a one-story warehouse. This plan would add a green roof, with restaurants up top, and stairs leading down to the park. Clearly the neighborhood is heading this direction, so why not? Sounds like the kind of place the Girls cast might frequent when they get a little bit older and move onto the wine-and-fancy-cheese parties of their late twenties. See another rendering below.
[Curbed via Spacecutter]