Talde Set to Bring Shrimp Toast, 'Phot Roast,' and Bacon-Oyster Pad Thai to Park Slope on Sunday
Dale Talde's Asian-American restaurant is at last ready to open.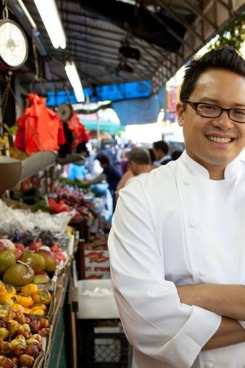 Way back in July, Grub Street spoke with Top Chef's Dale Talde about the Asian-American restaurant he was planning for Park Slope, and now, at last, Talde is set to open on Sunday. As promised, there's fried chicken — a Korean version that riffs Mediterranean with yogurt-kimchee, grapes, and mint. The toque's aim to draw from multiple Asian cultures and from Brooklyn is evident in dishes like pretzel pork-and-chive dumplings and the abundant use of market veggies, including kale. It's a pretty all-over-the-place lineup, in fact — just the sort of thing to spice up sedate Park Slope. See the menu below and taste it for yourself come Sunday.
Opening Menu [PDF]
Talde, 369 Seventh Ave., at 11th St., Park Slope; 347-916-0031
Earlier: What to Expect From Talde, Dale Talde's Upcoming 'Asian-American' Restaurant