Hey-O! Jay-Z at 15 East; Karen O and Mike D at John Dory Oyster Bar
Plus: James Lipton dines with Chris Rock, Senator Schumer chills in Williamsburg, and more, in our weekly roundup of celebrity dining.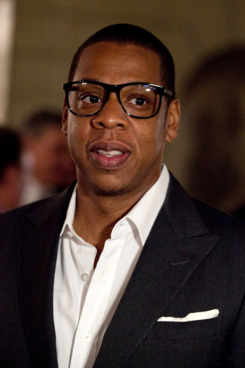 Does not having a full last name make securing dinner reservations more difficult? Apparently not for Yeah Yeah Yeahs front lady Karen O and Beastie Boy Mike D, who snagged a table at what one could call the John D. Oyster Bar. Or for Jay-Z, who can probably get into anywhere, ever, including sushi joint 15 East. But the last-named had to eat, too, especially people with surnames like Gosling, Johansson, Gosling, Hartnett, Gosling, and Gosling. Lots more sightings straight ahead.
15 East: The throne-watching Jay-Z had a working dinner with a branding specialist before heading out to party with his sister, Melanie Carter, at the Gansevoort Park Hotel. [Page Six/NYP]
16 Handles: Ryan Gosling and Emma Stone are dating, according to people who think walking around the East Village with yogurt is dating. [Celebrything]
Café Un Deux Trois: Scarlett Johansson and Justin Bartha ate with playwright (?) Zach Braff. [Hollywood Life]
The Darby: Bruno Mars abandoned his table to give the unsuspecting dinner crowd an impromptu micro-concert. [Page Six/NYP]
John's of 12th Street: Ryan Gosling was also seen here, where he took his family for dinner. [Eater NY]
The John Dory Oyster Bar: Spike Jonze and Karen O met up with Beastie Boys Adam Horovitz and Mike D for what might be one of the most old-hipstery-sounding dinners in recent memory. [Page Six/NYP]
Le Cirque: Aretha Franklin and friends got dinner after catching Baby It's You on Broadway. [People]
Le Comptoir: Senator Chuck Schumer joined his wife and two others for steak tartare, risotto, codfish, and chocolate mousse. [Grub Street]
NoBar: A moonlighting Anthony Mackie tended his new bar, which brought in the likes of Samuel L. Jackson and Sam Rockwell in its opening week. [Page Six/NYP]
Peels: Guess who was spotted eating out once again? We'll give you a hint: His name begins with "Ryan" and ends with "osling." [SocialiteLife]
Pink Tea Cup: Mickey Rourke went to the West Village for some southern food. [PinkTeacupNYC/Twitter]
Plein Sud: Sacha Baron Cohen and Isla Fischer sat down to a table of salmon, chopped salad, and "piles of paperwork." Their one-year-old daughter, Elula, settled on plain wheat toast. [Gatecrasher/NYDN]
Rubirosa: Josh Hartnett and some buddies had a guys' night out in Nolita on the eve of the actor's 33rd birthday. [People]
Southern Hospitality: James Lipton and his wife met up with Chris Rock for a meal at the restaurant's Hell's Kitchen location. [Gatecrasher/NYDN]
Townline BBQ: Jimmy Fallon drank beer and ate a pulled-pork sandwich while his wife, Nancy Juvonen, had a Bloody Mary, salad, and some wings. [People]