David Beckham Gets Stood Up at Ciano; Anthony Bourdain Visits Zio
Plus: Daphne Guinness wears a cape to B.E.S., Taylor Swift sings at the Darby, and more, in our weekly roundup of celebrity dining.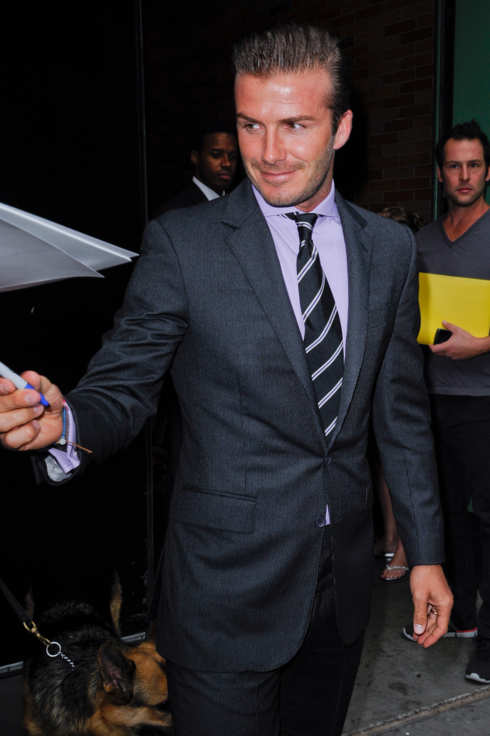 The record-breaking heat wave had local newscasters trying to fry eggs on the sidewalk, but the rest of us were still able to find a more sanitary means of feeding ourselves. Daniel Craig and Rachel Weisz managed to grab some pasta and calamari on the Upper East Side, while the globe-trotting Anthony Bourdain ventured into the exotic Flatiron district with his wife. Finding food wasn't an issue for David Beckham, either — it was finding his dining partner that proved tricky. Lots more sightings straight ahead.
B.E.S. Boutique Eat Shop: Daphne Guinness showed up to her date wearing a "foil cape," a "beehive" hairdo, and "her signature Cruella De Vil streaks." [Gatecrasher/NYDN]
Ciano: Jay-Z was apparently too busy watching the throne to meet David Beckham for their scheduled man-date, forcing the jilted footballer to call up some of his less glamorous buddies as replacements. [Page Six/NYP]
The Darby: Another week, another surprising mid-dinner performance from a pop star — this time from Taylor Swift. [OpenTable]
Imperial No. 9: Beckham, perhaps afraid of being stood up in public again, had chef Sam Talbot whip up a special meal to enjoy in his Mondrian Soho penthouse. [Gatecrasher/NYDN]
Le Cirque: Martha Stewart, Conrad Black, and other, less felonious socialites gathered here to witness the union of Arnold Scassi and Parker Ladd, which was followed by a cocktail party and dinner reception. The night's events were captured by up-and-coming wedding photographers Bill Cunningham and Patrick McMullan. [Page Six/NYP]
Le Parker Meridien: Spurned lover Crystal Harris is getting over her split with Hugh Hefner, as evidenced by her romantic rendezvous with Jordan McGraw. [CNN]
Primola: Newlyweds Daniel Craig and Rachel Weisz ignored their pasta, calamari, and red wine so that they could "gaze significantly" at one another over pasta, calamari, and red wine. [Liz Smith/wowOwow]
Tutto il Giorno: Eric Schmidt apparently didn't use Google Offers when deciding where to take his new favorite dining partner, Lisa Shields. [Atlantic Wire]
Zio: Anthony Bourdain checked out this new Flatiron spot with his wife, Ottavia. [Page Six/NYP]