Bocce's Biscuit Bike Is Now Rolling, With Doggie Ice Cream!
The food cart for canines has launched.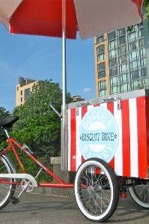 If you follow the world of organic and vegan pet food as breathlessly as we do, know that Bocce's Biscuit Bike, that doggie food cart we told you about a while back, is now rolling. The three-wheeled dog-treat vendor roams city parks Fridays through Sundays (it'll be at Central Park this weekend), dispensing biscuits in flavors like all-natural chicken cordon bleu to hungry pups, and ... this just in, doggie ice cream! For the record, that consists of "Organic yogurt, organic peanut butter swirl, fresh bananas, a bit of honey, and bits of our PBnJ doggie biscuits," writes founder Andrea Tovar. "It really looks like a cookies & cream — but for dogs." Follow the Bocce's Bakery Facebook and Twitter for Biscuit Bike location updates.