August Hires Hearth's Jordan Frosolone As New Chef
Your first look at the new dinner menu.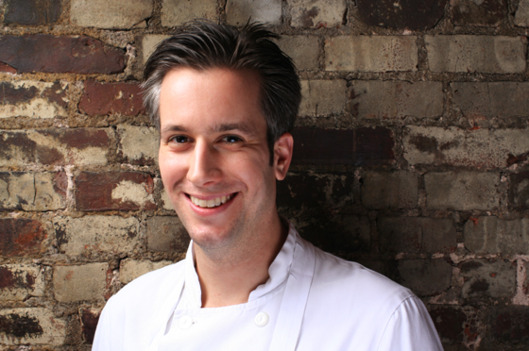 Back in February, it was announced that August's chef Terrence Gallivan was leaving to be chef at Chris Cannon's Alto. Now the folks over at August tell us that Jordan Frosolone quietly took over a few weeks ago. Frosolone cut his teeth at a trio of acclaimed Chicago restaurants (Coco Pazzo, Blackbird, and Nomi) and then spent several years with Marco Canora; we predicted great things for him after he became chef de cuisine at Hearth in 2007. As he did at Hearth, he'll have access to a wood-fired oven here. And beverage director Christian Post will have access to hard liquor! (The restaurant upgraded its license from beer and wine in April.) Here's a look at the new dinner menu — brunch will include a choice of Alsatian, Roman, or Andalusian baked eggs, plus challah bread French toast with strawberry compote and toasted almonds.
APPETIZERS

Mixed Lettuces 10
Beets, asparagus, potato chips, red wine vinaigrette

Chilled White Gazpacho Soup 10
Almonds, cucumber, grapes

Farro Salad 11
Marinated white anchovies, scallions, parsley root

Pickled Spanish Mackerel 12
Marinated red peppers, castelvetrano olives, grapefruit

Scallop Carpaccio 14
Sea urchin, watercress, vanilla

Wood Oven Fired Pizza 10
Tomato, mozzerella, basil

Potato Gnocchi 15
Rock shrimp, peas, beech mushrooms

Beef Consomme 12
Bone marrow, gruyere dumplings, chives

Roasted Sweetbreads 14
Onions, macadamia nuts, pickled ramps

Tarte Flambe 14
Alsatian onion and bacon tart, creme fraiche

ENTREES

Pecorino Tortelli 22
Fava beans, pine nuts, onions, basil

Spaetzle 22
Wild mushrooms, ramps, smoked gouda

Macaroni 23
Pork sausage, ricotta, basil

Shellfish and Saffron Soup 26
Hake, fennel, onion, garlic aioli

Grilled Columbia River Sturgeon 27
Braised lamb neck, artichoke, golden raisins

Whole Stuffed Bream 29
Crimini mushrooms, swiss chard, oven dried tomato

Roasted Chicken Breast 25
Leg confit, shiitake mushrooms, almonds, spring vegetables

Grilled Dry-Aged Sirloin 34
Potatoes, escarole, hen of the woods mushrooms, red wine sauce

Seven Course Chef Tasting Menu 75
Inquire with server for wine pairing