First Look at Saint Vitus, Greenpoint's New Rocker Hang
Picklebacks and rock music coming at you within the next week.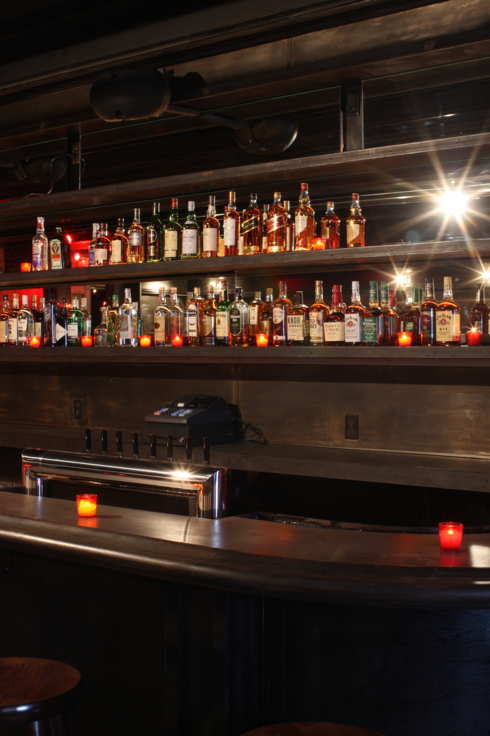 As promised, here's a look at Saint Vitus, the Greenpoint bar that partners from Anella and Matchless hope to open by the end of the week. The sparely appointed, cavernous lair has a bar area in front and a rock-and-roll music venue in back, and the drinks list should please rockers too. There's a Brooklyn Brine pickleback (naturally), four different beer-and-shot combos, a healthy roster of tap and canned beer, and a few classic cocktails. Check out that lineup, plus the menu of buns for snacking, below, and see photos of the space and food in our slideshow.

St. Vitus Buns

Short Rib
Pickled Red Cabbage, Carrot Puree

Pulled Pork
Coleslaw, Green Chili

"Grilled" Cheese
Camembert, Quince, Almond

BBQ Tofu
Cilantro, Kimchee

Eggplant
Grated Pecorino, Basil



We will have 4 beer and shot combos (that may or may not change depending on deals and what not)
The Priest
The Bishop
The Cardinal
The Pope


The Brooklyn Brine Pickle Back (made with Whisky Rye brine, double the whisky double the fun)

Tap Beers will be a mix of local breweries
including but not limited to:
SixPoints
Kelso
Ommegang
Capt. Lawrence

Then a few not so far as
Arcadia
Narraganssett
Victory
Sly Fox

Canned Beers will include all your favorites
Bud
PBR
Genessee

Coors Banquet

and 21st amendment from San Fran

The SAINT VITUS cocktail
Whisky, homemade honey simple, fresh squeezed lemon and Nero D'avola vino.

All bartenders will make the best versions of all the classics
The Brooklyn Manhattan
Greenpoints Old Fashioned
The Vespa (er)
Jacks (single) Rose
The Lemonada
Bols Jack Collins

All cocktails will use homemade ingredients such as grenadine, lime cordial and honey simple.

Pickles and olives brined and supplied by Brooklyn Brine
Saint Vitus, 1120 Manhattan Ave., nr. Clay St., Greenpoint