Love Bites: Fourteen Tales of Restaurant Romance Gone Awry
From the very people who lived them — the restaurant workers!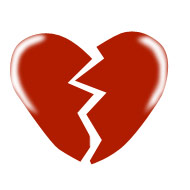 Food may be sensual, but when people speak of going out to dinner for Valentine's Day, Grub Street's advice on the matter is simple: Don't do it. The National Restaurant Association estimates 70 million lovebirds will be out there this year, cramming into every available seat, paying too much for subpar prix fixe menus, and getting all schmoopy with each other in public. Not exactly our idea of a superlative dining experience, to say nothing of setting the mood. (Though, if you disagree, by all means check out the Valentine's Playbook.) But worse than the crowds, the so-so food, and the PDA, what happens when diners' sweet feelings turn sour in public? It never ends well, that's for sure. Don't believe us? Check out these true stories of restaurant-related love gone bad, all from the very workers who lived them.
Worker
Awkward Alert
Love Bites
#14Waitress,Hollywood
A Guy's "Forgotten"
Wallet
"I was working in San Diego at a well-known steakhouse chain. This girl and guy met up through Craigslist or some dating site and she had driven all the way from L.A. to meet him. You could tell the date was already super-awkward and then at the end of it, he discovered that he'd left his wallet at home. They sat there arguing for a while before she finally decided to pay. Not sure if he did it on purpose, but she was really pissed."
#13Server,Philadelphia
Too Much Texting
"These days, I see a lot of people constantly checking their phones, texting and Facebooking right there at the table. One time this guy had his phone out and kept checking his Facebook. When his date got up to use the bathroom, I went over and said to him, 'That girl is gorgeous, why are you on Facebook? If you want to spend more time with her in the future, you better get off your phone.'"
#12Server,Philadelphia
Face Slap!
"Once I waited on a party of two or three couples who all looked like they could've been in the cast of Married to the Mob. At one point during the meal, one woman must've said something she wasn't supposed to say, and the guy she was with slapped her right across the face. I was so disgusted that I told my boss I couldn't wait on the table anymore. Another server who was more concerned with making money took care of them."
#11Restaurant owner, New York City
Pasta Dump
"Like New Year's Eve, Valentine's Day is fraught with a lot of stress and pressure to 'do the right thing.' That pressure definitely got the best of this couple. I was working the door that night, and they seemed fine when they walked in, but after a glass of wine they started arguing. The woman ended up dumping a big bowl of our pasta onto his lap and storming out."
#10Server,Boston
Too Much Plum Vodka
"One girl was celebrating being single with a bunch of girlfriends and had about five servings of the Plum Plum — she was only about 110 pounds. It's usually made with just plum wine, but we had changed the mix to include vodka. She was too drunk to even know where she lived. We tried to put her in a cab twice, and they had to bring her back. We eventually sent her to the hospital."
#9Server,Chicago
Table Sweep
"I had this couple, and they seemed to be doing okay. At some point things went south, culminating in the girl sweeping the table with her arm in the middle of dinner service. She walks out, but the guy just stays there. He not only finishes the food that was still on the table — while the bussers are sweeping everything else up — but he orders more food, all with this bizarre grin on his face."
#8Hostess,New York City
Secret Lovers
"A few years ago, a guy proposed to his girlfriend on Valentine's Day in front of the whole restaurant. She freaked out and said no. When the man asked her why, she said she was sleeping with his best friend."
#7Bartender,Chicago
Sneaky Vodka
Shots
"This woman walks up to the bar from her table, orders a shot of vodka, pays for it, chugs the shot, then heads back to the table, with a nice tip on top. She does this one more time and tells me she's on a blind date that's going so atrociously, she downs a shot of vodka whenever the guy gets up to go to the bathroom."
#6Hostess,New York City
A Mistress
Revealed
"A married couple came in and started arguing loudly, and then the woman said she wanted a divorce. The man said, 'Fine, I have a mistress anyway,' and she said, 'I know, I found out two years ago.' They agreed to get a divorce and left without paying."
#5Server,Philadelphia
Odd Proposal
"One night I had two couples seated at a wraparound banquette. The two women were on the inside and the two dudes were sitting on the ends. I forget how we knew that the one guy was about to propose to his girl. The fact that he chose to do this at dinner with another couple was a little weird. Anyhow, while they're sitting there eating dessert, the guy pulls the ring out, and the woman was so excited she fell out of the booth and slid under the table."
#4Bouncer,Santa Monica
Chokeholds! Punching!
"I was called in to deal with a situation that started between a guy and his girlfriend when she started talking to another guy. They started screaming at each other and she slapped him. By the time I came in, my co-workers were keeping them separated and the boyfriend became punchy with one of our bouncers. One of my partners brought him to the floor in a chokehold and this drove his girlfriend absolutely nuts. Suddenly, she's on his side and swinging at guys two or three times her size to try to get him loose."
#3Server,Boston
Sign-Language
Fight
"I waited on a couple who were both deaf, and they got into a sign-language fight over dinner. There was a lot of wild gesticulation. Eventually, I think my manager sent over a Champagne toast to try to ease the tension, since everyone was staring. Thankfully, they chilled out after that."
#2Server,New York City
Post-Breakup
Tipping
"I was serving a couple. In the middle of the meal, the man broke up with her. I don't know what kind of guy does this on Valentine's Day, but she acted like it was okay. Then, as soon as the man went to the bathroom, she flagged me down. She opened his briefcase, pulled out his credit card, ordered a $600 bottle of Champagne, and gave me the card to swipe immediately. She took a swig of the Champagne, walked out, and left me a $200 tip."
#1Manager,New York City
A Naked Patron
"I was working at the front of the restaurant and it was packed. At one point, I turned around, and there was a redheaded man standing in the middle of the restaurant completely naked except for his socks. I told him that he needed to put his clothes back on. He said his wife had come here years ago and had done the same thing, and that he was paying tribute to her on Valentine's Day."