Debi Mazar Is the Latest Celeb to Get Her Own Cooking Show
'Extra Virgin' will debut on Cooking Channel next month.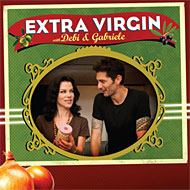 Stanley Tucci's got a wine program. Jean-Georges's wife is headed to Korea with Heather Graham. And now? Debi Mazar and her husband have a new show debuting on Cooking Channel next month. (We're sensing a trend here!) So what's the show, called Extra Virgin, going to be about? Take it away, press release: "She's a modern girl from Queens and he's a food purist from the hills of Tuscany and, with their two young daughters, they have a home life that blends their two opposite sensibilities — with hilarious and delicious results." Sounds like one's enjoyment of this program will greatly depend upon one's feelings toward Debi Mazar. If that's your thing, the show's on January 19 at 10 p.m.