What to Eat at MexiQ, Now Serving Tuna Burritos and Mexican-Style Fried Chicken
A little bit of Mesa Grill in Astoria?
The latest barbecue fusion newcomer (along with Fatty 'Cue, the Mexicue truck, and BaoBQ) opened last night. MexiQ comes from Astoria restaurateurs Dimitri Paloumbis (Break Bar and Billiards) and Dino Philippou (Cavo), who hired consulting chef Julieta Ballesteros (Crema, MXco, Los Feliz) to put a truly southern spin on southern favorites like brisket (braised in tequila and oregano, and smoked in-house), ribs (rubbed in adobo, marinated in beer, and braised in banana leaves), and even fried chicken (crusted in cornmeal and dusted in ancho chile). To top it all off: 48 beer taps! Have a look at the menu, and the fried ice cream.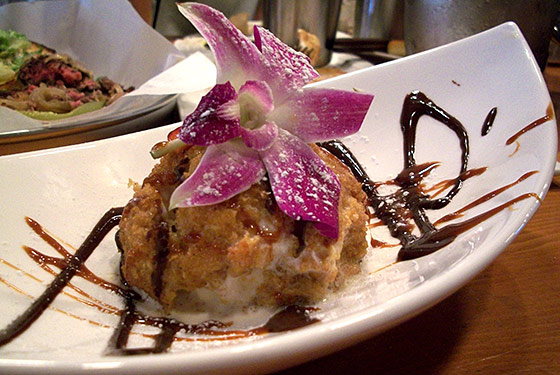 APPETIZERS
Classic Guacamole 6
Mashed avocados, onions, cilantro, jalapenos and lime juice. Served with chips.

Trio de Guacamoles 21
A sampling of our freshly made guacamole, served with chips.
Choose three from the following:
Classic, Lime Poached Shrimp
Roasted Pork Belly, Chicken Cracklin'

Ceviche Flight 14
Octopus and Shrimp Ceviche
Grilled Octopus, Poached shrimp, spicy green olive tomato salsa, fried capers and avocado mousse,
served with a mango pico de gallo
Citrus Spice Ceviche
Sea bass filet marinated in fresh squeeze citrus juice, pickled onions, tomatoes and avocado

Three Spice Wings 10
Jumbo fried chicken wings with a trio of sauces
Cilantro Herb Achiote BBQ Teriyaki Habanero

Fiesta Nachos 9
8 layer dip of cheddar, jalapenos, beans, salsa roja, pico de gallo, olives, Mexican cream and guacamole.
Add :
Steak - 6 Chorizo - 6 Chicken - 5

Cowboy Style Beans 10
Pinto beans cooked in beer, jalapeños, with chorizo, bacon and beef franks

Mac and Cheese 11
White cheddar cheese, crème fraise, herb panko crust with white truffle oil
Add:
Applewood smoked bacon - 2 Shrimp - 4 Huitlacoche - 4

Mexi-Q Appetizer Tasting (serves 4) 32
Classic Guacamole, Achiote BBQ wings, Ceviche flight, Truffled Mac and cheese

SALADS
Southwestern Caesar 9
Romaine lettuce, Chipotle Caesar dressing, parmesan cheese, panela cheese croutons, avocado and pico de gallo
Add :
Shrimp - 8 Steak - 6 Chicken - 5

Salad Dijon 10
Mixed greens, flour tortilla basket, shave gruyere, caramelized onions, sesame seeds, fresh pears and avocado
Add:
Shrimp - 8 Steak - 6 Chicken - 5

Fig & Frisee 12
Frisee, applewood smoked bacon, crumbled goat cheese, avocado, red wine fig vinaigrette, crispy tortilla strips
Add:
Shrimp - 8 Steak - 6 Chicken - 5

QUESADILLAS 12
Azteca
chicken, white cheddar, corn, caramelized onions, red salsa, pico de gallo and mexican cream

Nortena
Northern style chorizo, jalapeños, onions, tomatoes, goat cheese, and beans

Devil Corn
Huitlacoche (Mexican black truffle), corn, gruyere, Mexican crème, and pico de gallo

Mexi-Q Quesadilla Tasting (Serves 2) 18
A platter of our chicken, chorizo and huitlacoche quesadillas

ENTREES
Tuna Burrito 21
Pan seared sushi grade tuna wrapped in a flour tortilla with avocado, jicama relish, and sesame-pasilla sauce

Yucatan Style Chilean Sea Bass 23
Pan seared with our house blackening spice, chipotle mashed plantains,
beer battered onion rings, served with a side shot of Mexican tartar sauce.

Mexican Style Fried Chicken
Corn meal crusted fried chicken, chile ancho dust,
served with guacamole, salsa valentine and corn tortillas
1/2 chicken - 13 whole chicken - 25

Ribs
Adobo rubbed, marinated in dark beer and braised in banana leaves
Served with jalapeno goat cheese corn bread.
Beef - 18 Pork - 16 Combo - 32

Cowboy Style Ribeye 28
Premium char-grilled 10oz. ribeye topped with fried egg, served with Cowboy style beans and
jalapeno goat cheese corn bread.

FROM THE SMOKER
All served with fresh corn tortillas salsa roja, guacamole,
Mexican cream and pickled jalapeno cabbage

Pulled Pork Carnitas 16
Coca Cola and citrus braised pork

Beef Brisket 17
Tequila and oregano braised brisket

MexiQ Cazuela Tasting (Serves 2 - 4) 26
A tasting platter or our house smoked and braised carnitas, brisket and shortrib

BURGERS
All burgers served on a brioche bun
Add a side of hand cut fries for $2
MexiQ 8
6oz burger with pico de gallo, chipotle aioli, cheddar, caramelized onions, avocado and lettuce

Tuna 13
Tuna tartar burger, wasabi aioli, avocado, baby sprouts and sesame seeds

Vegetarian 7
Grilled portabello mushroom, green aioli, crispy panela cheese, baby sprouts, pickled cabbage and jalapenos

SIDES 4
French fries
Beer batter onion rings
Sautéed spinach
Fried pickles
Jalapeño- goat cheese corn bread
Spicy creamy corn

HOMEMADE CONDIMENTS 2
Cilantro emulsion
Chipotle emulsion
Green aioli
Chipotle aioli
Wasabi aioli
Achiote barbeque
Teriyaki Habanero

DESSERTS
Pecan Pie 9
Spiced creme anglaise, vanilla ice cream, chocolate ganache

Chocolate cheesecake Flan 8
Cajeta ( goat milk caramel) fresh berries, whipped cream, toasted walnuts

Tres Leches 9
Sponge cake soaked in three milks, mango syrup, dulce de leche ice cream

Fried ice cream 8
Toasted coconut ice cream, encrusted and deep fried, drizzled with cajeta and Mexican chocolate
MexiQ Kitchen & Draught, 37–11 30th Ave., nr. 38th St.; Astoria; 718-626-0333