Do-Gooder Chain Freshii Comes to Manhattan: Build (and Bring!) Your Own Bowl
A Canadian-based chain comes to New York today. A look at the choose-your-own-adventure menu.
Since leaving his PR gig at Oscar de la Renta and opening the first Freshii store in Toronto in 2005, Matthew Corrin has grown the chain to over 60 locations from Dubai to Hollywood (the latter store opened in July), and today Freshii launches its first outpost in New York City. Like budding chains Otarian and 4Food, Freshii aims to make do-goodism chic — in fact, its motto is "Biodegradable + Energy Efficient + Recycleable + Natural = Freshii." Not only is their packaging made from ecofriendly vegetable starches, but they'll serve food in whatever bowl you bring into the store. Their manifesto includes promises like, "We only buy from farms with environmentally responsible growth methods, where workers are treated and paid fairly" (of course, they use organic produce whenever possible). But the chain's real appeal may lie in its build-your-own-menu model.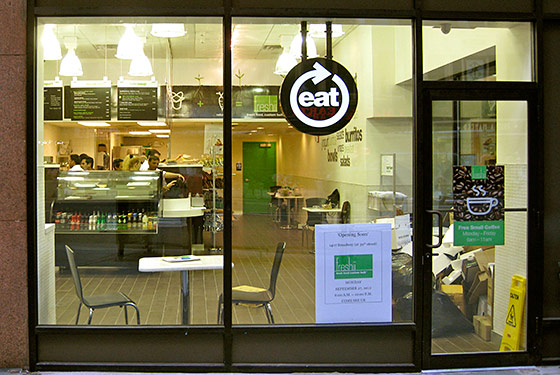 Customers can either build their own salads, burritos, soups, and rice bowls online (a calorie calculator helps you see just how calorific your creation is), and then pick it up. Or they can go to the store, fill out the check-sheet menu you can see below, and hand it to someone behind the counter who will then toss their salad in a custom biodegradable bag. Sure, in-store ordering is done on paper (with clipboards and golf pencils!) rather than on trendy new iPads, but if it makes you feel better, the paper is recycled into flyers. Take a look at the menu and decide whether or not you'll embrace the message of "Let's eat without regret. Let's love cucumbers. Let's embrace mushrooms. Let's throw caution to the wind and order the onions." You get the idea.
Freshii Menu [PDF]
Freshii, 1407 Broadway, nr. 39th St.