First Look at Salumè, Bringing Speck-tacular Panini to Soho This Week
The menu and a photo tour.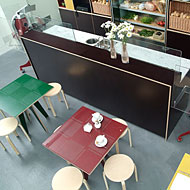 Until now our go-to for Soho lunch sandwiches has been Despaña, but it'll get some Italian competition when Milan-born ad executive Michele Colombo (along with some old Italian high-school friends) opens Salumè on Thursday. Colombo believes the word panini is "one of the most abused terms in the world," and at his salumeria, the sandwiches won't be pressed. Instead, the Pullman bread will be lightly toasted and Berkel slicers will cut imported meats to order. As you can see below, the menu also includes canapés (courtesy of chef Giuseppe Bologna) and housemade desserts. Don't let the sandwich-centric business model fool you: Though the wine and beer license has yet to come in, Colombo wants his operation to be a sit-down place, at least at first — there's table service, and delivery and takeout won't start till later. Salumè will be open from 11 a.m. till 11 p.m. daily.
PANINI
A rich, yet light combination of high-quality, hand-selected ingredients,
enclosed in a softly toasted Italian roll, sliced and prepared to order.

PROSCIUTTO CRUDO
Langhirano $12.50
Prosciutto Crudo di Parma, Mozzarella di Bufala, Pomodoro, Olio Extra Vergine d'Oliva
Parma Ham, Buffalo Mozzarella, Tomato, Extra Virgin Olive Oil

San Daniele $12.50
Prosciutto Crudo di San Daniele, Parmigiano Reggiano, Finocchio, Maionese, Olio Tartufato
San Daniele Ham, Parmesan, Fennel, Mayonnaise, Truffle Oil

PROSCIUTTO COTTO
Cernobbio $11.50
Prosciutto Cotto, Gorgonzola, Peperoni Arrostiti, Pepe
Cooked Ham, Gorgonzola Cheese, Roasted Peppers, Pepper

Courmayeur $11.50
Prosciutto Cotto, Fontina, Rucola, Salsa Tartara
Cooked Ham, Fontina Cheese, Arugula, Tartar Sauce

PROSCIUTTO DI PRAGA
Trieste $12.00
Prosciutto di Praga, Fontina, Pomodoro, Rafano
Prague Ham, Fontina Cheese, Tomato, Horseradish

MORTADELLA
Bologna $12.00
Mortadella di Bologna, Emmental, Rucola, Senape
Bologna Mortadella, Emmenthal Cheese, Arugula, Mustard

BRESAOLA
Stelvio $12.50
Bresaola, Parmigiano Reggiano, Rucola, Olio Extra Vergine d'Oliva, Limone, Pepe
Bresaola, Parmesan Cheese, Arugula, Extra Virgin Olive Oil, Lemon Juice, Pepper

Valtellina $12.50
Bresaola, Brie, Limone a Fette, Pepe
Bresaola, Brie Cheese, Sliced Lemon, Pepper

COPPA
Modena $11.00
Coppa, Pecorino, Finocchio, Salsa di Olive, Worchester
Coppa, Pecorino Cheese, Fennel, Olive Sauce, Worchester Sauce

SPECK
Cortina $12.50
Speck, Fontina, Peperoni Arrostiti, Salsa Tartara
Speck, Fontina Cheese, Roasted Peppers, Tartar Sauce

Ortisei $12.50
Speck, Taleggio, Cetriolini, Senape
Speck, Taleggio Cheese, Gherkins, Mustard

SALAME
Felino $11.50
Salame di Felino, Provolone, Rucola, Rafano, Olio Extra Vergine d'Oliva
Felino Salami, Provolone Cheese, Arugula, Horseradish, Extra Virgin Olive Oil

Tropea $11.50
Salame Piccante, Brie, Cetriolini, Tabasco
Hot Salami, Brie Cheese, Gherkins, Tabasco Sauce

TUNA
Favignana $12.00
Tonno, Pomodoro, Salsa di Olive, Olio Extra Vergine d'Oliva
Tuna, Tomato, Olive Sauce, Extra Virgin Olive Oil

VEGETARIAN
Bellagio $11.00
Gorgonzola, Finocchio, Salsa Tartara
Gorgonzola Cheese, Fennel, Tartar Sauce

Capri $11.00
Mozzarella di Bufala, Pomodoro, Basilico, Olio Extra Vergine d'Oliva
Buffalo Mozzarella, Tomato, Basil, Extra Virgin Olive Oil

Cervinia $10.50
Fontina, Pomodoro, Salsa Maionese, Pepe
Fontina Cheese, Tomato, Mayonnaise, Pepper

Reggio $11.50
Parmigiano Reggiano, Pera
Parmesan Cheese, Pear

Roma $11.00
Pecorino, Finocchio, Salsa Tartara
Pecorino Cheese, Fennel, Tartar Sauce

Taormina $11.50
Provolone Piccante, Peperoni Arrostiti, Salsa Tartara
Spicy Provolone, Roasted Peppers, Tartar Sauce

TOAST
Two slices of Pullman bread play host to quality ingredients.

Porto Cervo $12.00
Prosciutto Cotto, Fontina, Maionese
Cooked Ham, Fontina Cheese, Mayonnaise

Porto Rotondo $12.00
Prosciutto Cotto, Fontina, Sottaceti, Tartara
Cooked Ham, Fontina Cheese, Pickles, Tartar Sauce

Positano $12.50
Prosciutto Cotto, Mozzarella Affumicata, Pomodoro, Acciuga
Cooked Ham, Smoked Mozzarella, Tomato, Anchovy

Urbino $11.00
Emmenthal, Sottaceti, Salsa Tartara
Emmenthal Cheese, Pickles, Tartar Sauce

Alba $8.00
Nutella, Banana, Zucchero a velo
Nutella Chocolate & Hazelnut Spread, Banana, Confectioner's Sugar

CANAPÈ
A slice of Pullman bread carries the delicate ingredients and their intense flavor.

Val Ferret $12.00
Lardo, Miele
Lard, Honey

Zibello $15.00
Culatello, Burro
Culatello, Butter

Portofino $12.00
Acciuga, Burro, Limone a fette, Capperi
Anchovy, Butter, Sliced Lemon, Caper

Carloforte $15.00
Bottarga, Salsa Tartara, Olio Extra Vergine d'Oliva
Dried Tuna Roe, Tartar Sauce, Extra Virgin Olive Oil

RICETTE CLASSICHE VELOCI
Indulgent and quick as panini.

Bella Italia $23.50
Any combination of four panini in their mignon version, for an Italy tasting journey.

Bresaola $25.00
Bresaola, Olio Extra Vergine d'Oliva, Limone, Pepe Bresaola, Extra Virgin Olive Oil, Lemon Juice, Pepper

Caprese $20.00
Mozzarella di Bufala, Pomodoro, Basilico, Olio Extra Vergine d'Oliva
Mozzarella di Bufala, Tomato, Basil, Extra Virgin Olive Oil

Giro d'Italia $25.00
Prosciutto Crudo di Parma, Culatello, Bresaola, Mortadella, Salame di Felino

Millemiglia $20.00
Mozzarella di Bufala, Fontina, Parmigiano Reggiano, Pecorino, Taleggio

DOLCI
Dessert.

Budino di Cioccolato $8.00
Chocolate Pudding

Salame di Cioccolata $10.00
Chocolate Salami

Tiramisù $11.00
Crème Caramel $8.00
Crostata di Lamponi $12.00
Raspberry Tart

BEVANDE
Beverages

Acqua Minerale
Water
Acqua Minerale Gassata San Pellegrino $4.00
San Pellegrino Sparkling Water

Acqua Minerale Naturale Panna $4.00
Panna Still Water

Bibite
Soft Drink

Spremuta d'Arancia $4.00
Freshly Squeezed Orange Juice

Aranciata San Pellegrino $3.00
San Pellegrino Orangeade

Limonata San Pellegrino $3.00

Chinotto San Pellegrino $3.00

Coca Cola $3.00

Coca Cola Diet $3.00

San Pellegrino Lemonade
Caffè
Coffee

Illy Caffè Espresso $3.00

Illy Decaffeinated Caffè Espresso $3.50

Illy Cappuccino $5.00
Illy Decaffeinated Cappuccino $5.50

Tè
Tea
Dammann Darjeeling $5.00
Dammann Lapsang Souchong $5.00
Dammann Earl Grey $5.00
Dammann Jasmin $5.00
Dammann Chamomile $5.00

Salumè, 330 West Broadway, nr. Broome St.; 212-226-8111