Salvatore Olivella Brings His Nutella Pie to Midtown 'Pizza Speakeasy'
A first look at 57 Napoli Pizza e Vino.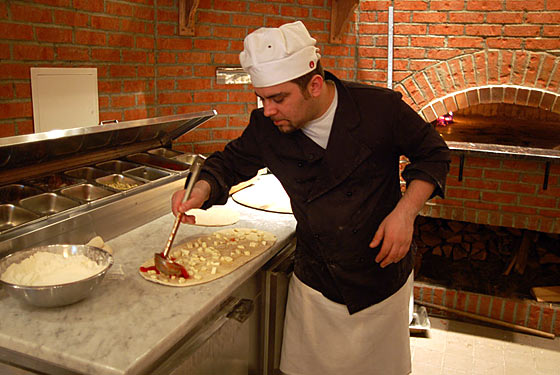 Last time we checked in with Salvatore Olivella, he was planning to launch a fleet of pizza trucks. His brush with the local news (remember those pizza-happy rats?) may have put a damper on that, because as of this morning, the former L'asso and No. 28 pizzaiolo is, thankfully, back in front of a wood-burning brick oven and hand-pulling homemade mozzarella at 57 Napoli Pizza e Vino, a new (need we say it?) Neapolitan pizza spot above C'est Bon Café in midtown. C'est Bon has converted a former upstairs seating area into what's being called a "pizza speakeasy" of less than 50 seats. Wine and beer by the glass will be served there from 11 a.m. till 11 p.m. The space isn't anything fancy (think brick walls, two tops, and a floor-to-ceiling glass window overlooking 57th Street), but as far as lunch options go, it beats the buffets. Here's a look at the twelve-inch round pie and the eighteen-inch "metro" pie, plus the menu. Of special note: the Nutella pizza you know and love from L'asso.
Pizza
Round 12" Metro 18"

Pizza Rossa
tomato sauce, basil, oregano, cherry tomatoes and olive oil
R - 12; M - 20

Pizza Margherita
mozzarella, tomato sauce, basil and olive oil
R - 12; M - 20

Buffalina D.O.C.
tomato, fresh buffalo mozzarella, basil and olive oil
R - 15; M - 22

Brutta Ma Buona
tomato sauce, mozzarella, ricotta, sausage, olives, basil
R - 14; M - 20

Caprese
mozzarella, cherry tomatoes, basil (no tomato sauce)
R - 15; M - 22

5 Formaggi
provolone, gorgonzola, mozzarella, parmigiano and pecorino (no tomato sauce)
R - 14; M - 22

Quattro Staggioni
tomato sauce, mozzarella, mushrooms, ham, olives, artichokes, basil
R - 14; M - 22

Pizza Patata
potato, mozzarella, ricotta, walnuts and rosemary (no tomato sauce)
R - 12: M - 20

Pizza San Daniele
prosciutto, mozzarella, arugula, parmigiano and olive oil
R - 15; M - 22

Pizza Soppressata
Italian dried sausage with mozzarella, pecorino cheese and onions
R - 15; M - 22

Pizza al Gorgonzola, Pera e Nocci
gorgonzola, pear and walnuts (no tomato sauce)
R - 14; M - 22

Ortolana
grilled vegetables
R - 12; M - 20

Desserts
Nutella Pizza
9

Pizza with Marshmallows and Chocolate
10

Mini Zeppolis
7

Tiramisu
8

Gelato affogato - ice cream "drowned" in coffee
10

Panini
Dante - spicy soppressata, fontina, mixed greens
10

Parma - prosciutto, arugula, parmigiano
10

Caprese - fresh mozzarella, tomato, pesto, extra virgin olive oil
9

Chicken Parmigiana
9

Eggplant Parmigiana
8

Piedine (Italian Flat Bread)
San Daniele - prosciutto, mozzarella, arugula, parmigiano and olive oil
10

5 Formaggi - provolone, gorgonzola, mozzarella, parmigiano and pecorino
9

Antipasti
Antipasto di Montagna -Italian cold cuts and cheese
14

Melanzana alla Parmigiana - eggplant parmigiana
12

Sfizio Vegetali - zucchini and eggplant in homemade dressing
10

Grigliata di Pollo - grilled chicken with mixed greens, balsamic vinaigrette
12

Insalate
Insalata Verde - mixed greens and tomato
8

Pianura - mixed greens, fennel, orange, pine nuts and olives
9

Collina - mixed greens, pear, parmigiano and truffle oil
10

Caprese - fresh mozzarella, tomato, pesto, extra virgin olive oil
12

Pasta
Lasagna di Carne - lasagna with meat sauce
12

Pasta al Forno - ricotta, mozzarella, tomato sauce
12

Ravioli di Spinaci - spinach ravioli, sage butter
10
57 Napoli Pizza e Vino, 120 E. 57th St., nr. Lexington Ave.; 212-750-4586