First Look at Gordon Bennett, Now Serving Irish Cheddar Toasties
A partner in Iona opens a new Williamsburg pub.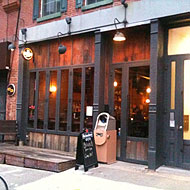 Gordon Bennett has been open for a little while now, but owner Lee Papo has succeeded in keeping it completely under the radar. Last weekend she added a food menu to the roster of tap beers (you can see both below), so it's time to get the word out. Papo wants the bar to be a Scottish-English neighborhood joint much like co-owner Robert Hannah's other bar Iona, where Papo bartended. The duo remodeled the former Vinas space with recycled materials — the slate floor supposedly once graced the ceiling of City Hall, and the back bar used to be a butler's pantry. Our cell-phone shots don't quite do justice to the space, but it turned out nicely, though not nice enough for a Vinas loyalist who came in yesterday and was bummed she couldn't get coconut rice anymore. As for what is currently coming out of the kitchen, see the menu below.
Brunch - Sat & Sun, 10 a.m. till 5 p.m.

Hangover Special
Your first mimosa or house bloody mary for $3 with any dish

Eggs
(all dishes are served with homefries and salad unless noted otherwise)
Eggs benedict - $8
Salmon benedict - $9
Eggs Florentine - $8
Steak & eggs - $10
Build your own omelet - 3 items, $8
Shakshuka - three eggs baked in a tomato mushroom and peppers sauce, served with bread - $8

Homemade granola and berries served with milk or yogurt - $6
Banana French toast - $7
Smoked salmon on a bagel with cream cheese and capers - $8

Sandwiches
Burger with bacon and fries - $9, add cheese $1
Grilled pesto chicken sandwich with fries - $9, add cheese $1
Goat cheese pesto and tomato panini served on whole wheat with salad - $7, add avocado $1

Entrees
Bangers & mash - $9
Mac & cheese - $9, add mushrooms or bacon $2 or prosciutto $4
Beef stew served with white rice and salad - $12
Beer battered cod fish & chips - $13

Sides
Fries - $3
Homefries - $3
Mash - $3
Mac & cheese - $5
Breaded and fried macaroni - $4
Sausage - $2
Chicken fingers - $5

Fries - $3
Homefries - $3
Mash - $3
Mac & cheese - $5
Breaded and fried macaroni - $4
Sausage - $2

Lunch & Dinner - 4 p.m. till midnight Tuesday through Sunday

Appetizers
Soup of the day - $5
Bruschetta - $6
Irish cheddar toasties - $6
Baby bellas stuffed with flavored goat cheese - $6
Chicken fingers - $6
Mussels in white wine and tomato sauce - $8

Salads
Mixed greens - $5
Shitake, peppers, and goat cheese salad - $9, add chicken $3
Steak salad topped with shoe-string fries - $12

Entrees
Bangers & Mash - $9
Mac & cheese - $9, add mushrooms $2 or prosciutto $4
Pasta in tomato and meat sauce - $12
Beef stew served with white rice and salad - $12
Beer battered cod fish & chips - $13
Sauteed beef w/shitake and onions served with mash & salad - $14
Chicken breast sauteed in white wine, shitake, tomatoes and capers w/mash - $14

Sandwiches
Burger with bacon and fries - $9, add cheese $1
Grilled pesto chicken sandwich with fries - $9, add cheese $1
Goat cheese pesto and tomato panini served with salad - $7

Fries - $3
Mash - $3
Mac & cheese - $5
Breaded and fried macaroni - $4
Sausage - $2

Fries - $3
Homefries - $3
Mash - $3
Mac & cheese - $5
Breaded and fried macaroni - $4
Sausage - $2

Beer on Draught
Imports - 20 oz. - $6
Guinness
Smithwick's
Belhaven Scottish Ale
Radeberger Pilsner
Wurzburger Pilsner
Dry Black Thorn Cider
Starodramen Lager
Hofbrau Hefeweizen
Weihenstephan
Hoegaarden
Old Speckled Hen
Stella Artois
Hofbrau Oktoberfest

Domestics - 16 oz. - $5
Blue Point Toasted
Blue Moon
Sixpoint Sweet Action
Harpoon Cider
Yuengling Lager
Big Daddy IPA
Anchor Liberty Ale

Gordon Bennett, 109 S. 6th St., nr. Bedford Ave., Williamsburg, Brooklyn