Chinatown Veteran Bo Ky Opens Second Location
After three decades, the Chinese-Vietnamese favorite has expanded.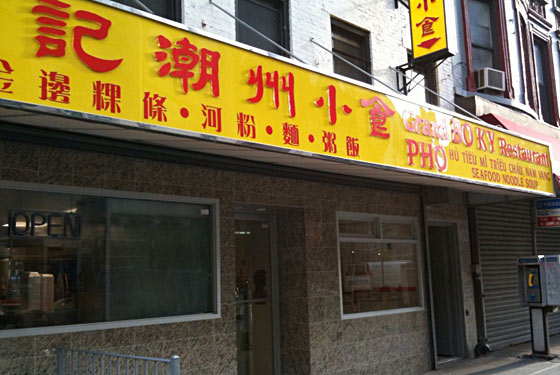 Nyonya isn't the only Asian standby making moves on Grand Street. As anticipated, the Ngo family has, just a block away, opened a new location of their popular Chinese-Vietnamese joint, Bo Ky. The grand opening is on Sunday, but the full menu is already being served for dine-in and takeout (no delivery). As with Nyonya, prices are up slightly from the old location, which will remain open, but the offerings are exactly the same.
So, why, after over three decades in Chinatown, have the three Ngo brothers opened a duplicate shop four blocks away? Well, they simply liked the location. (And they're not the only ones: Across the street, someone has finally taken the old Grand Street Gourmet space and started renovation.) The room, which holds about 40 people, is bare-bones and spic-and-span. As of now, hours are from 10 a.m. till 8 p.m. The familiar menu of noodles and meat, butchered in-house, is below.
Teo Chew Flat Noodle or Egg Noodle / Rice Noodle Hu Tieu Trieu - $5

Cham Noodle Soup Teo Chew Style - $5.25

Fish Rice Soup Teo Chew Style $5

Cambodian Rice Noodle or Egg Noodle Soup $5

Seafood Flat Noodle or Egg Noodle - $5.25

Jumbo Shrimp Flat Noodle or Egg Noodle Soup - $5

Fish Ball Flat Noodle or Egg Noodle Soup - $3.75

Fish Dumpling Flat Noodle or Egg Noodle Soup $4.75

Wonton Flat Noodle or Egg Noodle Soup - $3.75

Dumpling Flat Noodle or Egg Noodle Soup - $4.25

Mushrooms with Duck Flat Noodles or Egg Noodle Soup - $5.25

Curry Chicken Rice Noodle, Flat or Egg Noodle Soup - $5.50

Sliced Chicken Flat Noodle or Egg Noodle - $4.50

Chicken Gan Cham Noodle Soup - $4.75

Sliced Pork Gan Cham Noodle Soup - $4.50

Sliced Beef Flat Noodle or Egg Noodle Soup - $5

Special Beef Flat Noodle or Egg Noodle Soup - $5.75

Homemade Beef Ball Noodle Soup - $4.25

Cuttlefish Ball Flat Noodle or Egg Noodle Soup - $4.25

Shrimp Ball Flat Noodle or Egg Noodle Soup - $4.50

Pork Kidney's Platters with Beansprout or Pork Liver - $7.50

Pig Intestine with Pickled Vegetables Noodles Soup - $5

Beef Belly Flat Noodle Soup or Egg Noodle / Rice Noodle - $5

Fish Cake Flat Noodle Soup or Egg Noodle / Rice Noodle - $4.25

Special Fish Dumpling Soup Dac Biet Canh Ca Cao - $5

Lemongrass Beef Steak On Rice - $8.25

Shrimp Ball Soup - $4.75

Cuttlefish Ball Soup - $4.75

Seafood Soup - $7.75

Combination Soup - $7.75

Pork combination Soup - $7.75

Country Duck On Rice - $4.75

Mixed Meat On Rice - $4.25

Sliced Pork Leg On Rice Com - $4

Country Style Chicken On Rice - $4.45

BBQ Pork Chop On Rice - $5.25

Pig Intertine with Pickled Vegetable On Rice - $4.50

Pig's Feet On Rice - $5

Belly Beef On Rice - $5

Curry Chicken On Rice - $4.50

Seafood Rice - $5.25

Country Style Chicken - $9.95 for half, $5.50 for quarter

Country Style Pig Intestines - $5.25

Pig Intestines with Pickled Vegetables - $6.75

Pig's Feet - $5.75

House Special Shrimp Roll - $6.75

Teo Chew Sate Flat Noodle or Egg Noodle - $6

Mustard Green Vegetables - $4.50

Mustard Green Vegetables Noodles Soup - $4

BBQ Pork Chop - $7.50

Country Style mixed Meat - $5

Country Style Duck - $9.75 for half or $5.75 for quarter

Viet Nam Spring Roll - $6.50

Additional Vegetables - $.50

Hu Tieu , Bun, Mi, Dong Gia , Banh Loc, Mi Soi Lon Hoac Lam Kho Them - $.25
Grand Bo Ky Restaurant, 216 Grand St., nr. Mulberry St.; 212-219-9228