Cheftestant Shuffle: Centro Replaces Leah Cohen; Mark Simmons Comes to Melt
A look at a 'Top Chef: Chicago' alum's new menu.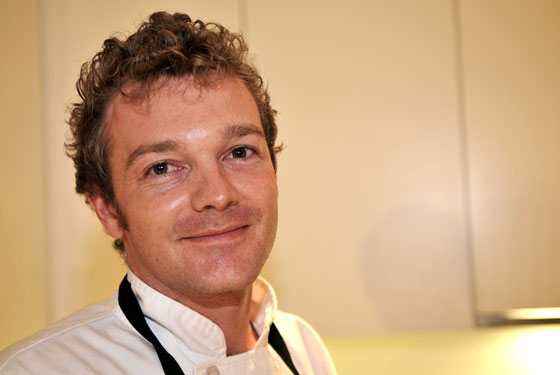 As you know, Leah Cohen has left Centro Vinoteca (Eater hears that Beau Houck, a Five Points alum, will be the new chef at the restaurant once it reopens after a brief permitting-related closure). So where else can you see a cheftestant in the kitchen these days? Well, we hear that Mark Simmons, the carrot-top Kiwi from Top Chef Chicago has landed at Melt, where Gordon Ramsay and Thomas Keller alum Andres Valbuena was previously the executive chef. Simmons was a member of the Public and Double Crown family before more recently arriving in Brooklyn via Get Fresh Market and Table. At Melt, he'll continue to stay focused on sustainability and local, seasonal ingredients, and yes, we're told he'll actually be in the kitchen every day. Here's are his debut menus.
SMALL BITES

EAST COAST OYSTERS
Chilled Pickled Rhubarb Mignonette
3 ea.

SWEET CORN AND CRAB SOUP
Maine Crabmeat, Avocado, Popcorn
9.

WILD STRIPED BASS CEVICHE
Lime, Cilantro, Shallot, Ginger, Avocado Puree, Sweet Potato Chips
10.

TATAKI TUNA NICOISE SALAD
Seared Yellow Fin Tuna, Romaine Lettuce, Boiled Quail Egg,
House Cured Olives, Pickled Bean Sprouts
13. (Without Tuna 10.)

MESCLUN SALAD
Goat Cheese, Grapes, Garam-Spiced Cashews
12.

CHANNA DAL
Naan, Raita, Sambal
9.

PULLED PORK SLIDERS
Cucumber, Red Cabbage Slaw
9.

LARGE BITES

HAND MADE FETTUCCINE
Roasted Beet and Goat Cheese Sauce, Arugula and Pine Nut Salad
16.

STEAMED MUSSELS
Coconut Thai-Yellow Curry, Hand Cut Fries
15.

PAN-SEARED WILD STRIPED BASS
Saffron-Chorizo Risotto, Pickled Mussels
24.

PEACH GLAZED FREE-RANGE CHICKEN BREAST
Hand-Cut Fries, Braised Greens
18.

MELT BURGER
Grass-fed Beef, Cave-Aged Cheddar, Roasted Tomato, House-Made Pickles
Choice of: Vidalia Onion Rings or Hand-Cut Fries
15.

BRAISED AUSTRALIAN LAMB SHANK
Truffled Grits, Charred Asparagus
24.

BLACK ANGUS SIRLOIN
Carrot and Ginger Puree, Minted Pea Ravioli
28.

Brunch

BRUNCH BITES

GRANOLA & YOGURT
Berries, Fruit, Walnuts
8.

MESCLUN SALAD
Goat Cheese, Grapes, Garam-Spiced Cashews
12.

EAST COAST OYSTERS
Chilled Pickled Rhubarb Mignonette
3 ea.

BAKED EGGS *
Roasted Tomato, Carmelized Onions, Manchego, Fresh Herbs
9.

FALL VEGETABLE OMELETTE *
Asparagus, Spinach, Foraged Mushroom, Chevre
8.

EGGS BENEDICT *
Poached Eggs, Braised Pork Belly, Hollandaise
10.

EGGS MONTERREY *
Poached Eggs, Monterrey Bay Crab Cakes, Cilantro Hollandaise
14.

FRENCH TOAST *
Vermont Maple Syrup, Berries, Whipped Cream
9.

PULLED PORK SLIDERS
Cucumber, Red Cabbage Slaw
12.

MELT BURGER
Grass-fed Beef, Cave-Aged Cheddar, Roasted Tomato, House-Made Pickles
Choice of: Vidalia Onion Rings or Hand-Cut Fries
15.

TRIPLE DECK B.L.T. **
House-made Pickles, Vidalia Onion Rings
8.

*All the egg dishes are served with
Toast, Sweet Potato Home Fries, Market Green Salad
** Optional Tofu Bacon Available

EXTRA BRUNCH BITES

Fruit & Berries
5.

Sweet Potato Home Fries
5.

Hand Cut Fries
5.

Applewood Bacon
4.

Faccios Italian Sausage
5.

Bar Menu

BAR BITES

HAND MADE SAUSAGE TASTING PLATE
Handmade Turkey Sausage, Merguez Lamb Sausage and Chorizo
Seeded Mustard, Marmalade, Pickles
9.

PULLED PORK SLIDERS
Smoked and Slow Braised Pork Rib Meat, Cucumber,
Red Cabbage Slaw
9.

MELT BURGER
Grass-fed Beef, Roasted Tomato, House-Made Pickles
Cave-Aged Cheddar +1,
Choice of: Vidalia Onion Rings or Hand-Cut Fries
10.

BREAD CRUMB FISH AND CHIPS
Fresh Tilapia in Crispy Panko Bread Crumbs
Tartare Sauce, Frisee Salad
Hand Cut Fries
11.

WILD STRIPED BASS CEVICHE
Fresh Wild Striped Sea Bass, Lime, Cilantro, Shallot, Ginger,
Avocado Puree, Sweet Potato Chips
10.

EASTCOAST OYSTERS
Fresh Oysters on the Half Shell, Chilled Pickled Rhubarb Mignonette
3 ea.

CHANNA DAL
Young Small Split Chick Pea, Handmade Naan Bread, Raita, Sambal
9.

ARTISANAL CHEESE PLATE
Soft Boucheron Goat Cheese, Medium Dutch Gouda,
Aged Pecorino Cheese, Marmalade, Spiced Cashews, Truffled Honey
9.

Arrive 10pm-11pm Tues.-Sat., 9pm-10pm on Sunday for
2 for 1
Select Draft Beer at the Bar


Melt, 440 Bergen St., Near Fifth Ave., Park Slope, Brooklyn