First Look at Ed's Chowder House, From Jeffrey Chodorow and Ed Brown
A look at the menu of "sea shack cuisine" from a seafood savant, and the space.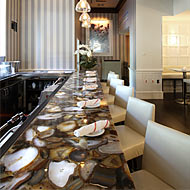 Jeffrey Chodorow may have struck out on bringing Manhattan to the Hamptons when Kobe Beach Club closed, but on Thursday, he'll try to bring a little bit of the East End to midtown when he opens Ed's Chowder House in the Empire Hotel space that used to house Center Cut. The Ed in question is Ed Brown, the sourcing stickler from Eighty One. He knows a little bit about seafood, having authored The Modern Seafood Cook, and having helped to update the fish section of the new Joy of Cooking. Here, he'll put his expertise to work on "sea shack cuisine," meaning, of course, chowders, lobster, and such. As with Eighty One, there's also a section of the menu marked "Simply," indicating fish that can be roasted, grilled, or steamed. For those who don't want to commit to a whole porgy, there's a "chowder bar" serving lobster rolls, steamers, and the like from 11:30 a.m. till midnight. And what new all-American restaurant would be complete without a raw bar? The preliminary menu is below (keep in mind, prices and dishes are subject to change) — take a look at the slideshow to see what Chodorow's designer, Jeffrey Beers, whipped up this time around.
Dinner Menu
raw bar
• selection of Atlantic oysters 2.75 ea.
• little neck clams 1.75 ea.
• jumbo shrimp 3.75 ea.
• jumbo lump crab meat 14.
• chilled poached mussels 8.
• ½ chilled lobster 16.

shellfish platters

ginger-scallion mignonette, cocktail sauce, hot horseradish, lemon and saffron aioli, dark rye bread

medium 6 oysters, 4 clams, 2 shrimp, mussels, ½ lobster 49.
large 9 oysters, 6 clams, 4 shrimp, crabmeat, mussels, ½ lobster 79.
royal 12 oysters, 9 clams, 6 shrimp, crabmeat, mussels, whole lobster 119.

appetizers

o Ed's loaded seafood chowder 15.
o New England style clam chowder 11.
o sweet corn chowder 9.
o Manhattan style blue crab chowder 13.
o chowder sampler: clam, corn and crab 12.
o red and gold beets with goat cheese, walnuts, arugula and watercress 12.
o iceberg lettuce, red onion and rye croutons
buttermilk, blue cheese or balsamic dressing 9.
o tuna tartare, quail egg and waffle chips 15.
o spicy steamed mussels, sourdough croutons 11.
o cured and smoked salmon, capers, hearts of palm, cucumber, hard cooked egg 14.
o scallop ravioli, white wine sauce and herbs 12.
o savory lobster crumble 16.

main courses

o peppered tuna steak frites, herb butter 28.
o local fluke, lemon, capers and green & yellow beans 24.
o herb crusted skate, horseradish mashed potato 22.
o Atlantic salmon, creamy leeks and red wine 26.
o butternut squash risotto 17.
o grilled New Bedford sea scallops, butter beans, bacon and escarole 26.
o Chatham cod, potato chip crust, spinach and mustard sauce 24.
o grilled chicken paillard, chopped tomatoes and arugula 19.

simply

o lobster 16. per lbs.
o local fluke 21.
o weakfish 18.
o tuna steak 26.
o Atlantic salmon 24.
o jumbo grilled shrimp 27.
o New Bedford sea scallops 24.
o Chatham cod 22.
o Montauk striped bass 25.
o whole porgy 19.

o double cut domestic lamb chops 35.
o dry aged black angus sirloin 32.
o filet mignon 29.
o surf n' turf, filet mignon and grilled jumbo shrimp 35.

sides 6.

garlic-chili spinach spaghetti vegetables
red bliss potatoes with parsley
green beans horseradish mashed potato chowder house slaw
spiced corn gratin creamed spinach seasoned fries

Non-Stop Dining @ The Chowder Bar

Guests can order selections from the Raw Bar and Shellfish Platters, as well as…

o Local steamers when available
o Ed's loaded seafood chowder 15.
o New England style clam chowder 11.
o sweet corn chowder 9.
o Manhattan style blue crab chowder 13.
o Chowder Sampler: clam, corn and crab 12.
o Tuna sliders with seasoned fries 15.

o spicy chopped vegetable salad 10. add crispy calamari 5.
o chowder house burger, seasoned fries 15.
o crisp oysters, spicy corn relish 13.
o the lobster roll, chowder house slaw 24.
o cured and smoked salmon, capers, hearts of palm, cucumber, hard cooked eggs 14.
o iceberg lettuce, red onion and rye croutons
buttermilk, blue cheese or balsamic dressing 9
o grilled striped bass sandwich, watercress, beefsteak tomato and slaw 18.
o crispy calamari, saffron aioli 11.
o fish n' chips, malt vinegar 17.
o jumbo lump crab cake, spicy remoulade sauce and house slaw 15.


Lunch
Guests can order selections from the Raw Bar and Shellfish Platters, as well as…

appetizers

o Ed's loaded seafood chowder 15.
o New England style clam chowder 11.
o sweet corn chowder 9.
o Manhattan style blue crab chowder 13.
o Chowder Sampler: clam, corn and crab 12.
o Crispy calamari, saffron aioli 11.
o red and gold beets with goat cheese, walnuts, arugula and watercress 12.
o iceberg lettuce, red onion and rye croutons
buttermilk, blue cheese or balsamic dressing 9.
o cured and smoked salmon, capers, hearts of palm, cucumber, hard cooked eggs 14.
o smoked Chatham cod cakes, roasted tomato-chili jam 11.


main courses

o grilled New Bedford scallop salad, arugula, red onion and orange 21.
o peppered tuna steak frites, herb butter 26.
o Chatham cod, potato chip crust, spinach and mustard sauce 22.
o the lobster roll, chowder house slaw 27.
o jumbo lump crab cakes, spicy remoulade sauce and house slaw 24.
o pasta with clams and pancetta (available with low carb / low glycemic pasta) 17.
o Caesar salad 14.
add crisp oysters 7. grilled shrimp 9. grilled chicken 5.
o spicy chopped vegetable salad with crispy calamari 15.
o grilled striped bass sandwich, watercress, beefsteak tomato and slaw 18.
o spicy steamed mussels with fries 19.
o chowder house burger, seasoned fries 15.
o shrimp risotto, arugula pesto 22.
o grilled chicken paillard, chopped tomatoes and arugula 19.

simply

o lobster 16. per lbs.
o local fluke 20.
o weakfish 17.
o tuna steak 25.
o Atlantic salmon 23.
o jumbo grilled shrimp 22.
o New Bedford sea scallops 23.
o Chatham cod 21.
o Montauk striped bass 24.
o whole porgy 18.

o domestic lamb chops 32.
o dry aged black angus sirloin 30.
o filet mignon 27.
o surf n' turf, filet mignon and grilled jumbo shrimp 32.

sides 6.

garlic-chili spinach spaghetti vegetables
red bliss potatoes with parsley
green beans horseradish mashed potato chowder house slaw
spiced corn gratin creamed spinach seasoned fries


Brunch

Guests can order selections from the Raw Bar and Shellfish Platters, as well as…

appetizers

o assorted mini Danish and muffins 7.
o yogurt, berries and granola 7.
o Ed's loaded seafood chowder 15.
o New England style clam chowder 11.
o sweet corn chowder 9.
o Manhattan style blue crab chowder 13.
o Chowder Sampler: clam, corn and crab 12.
o crispy calamari, saffron aioli 11.
o red and gold beets with goat cheese, walnuts, arugula and watercress 12.
o baby iceberg lettuce, red onion and rye croutons
buttermilk, blue cheese or balsamic dressing 9
o cured and smoked salmon, capers, hearts of palm, cucumber, hard cooked eggs 14.
o salmon belly tartare, mustard oil, radish and herbs 11.
o jumbo lump crab cake, tartar sauce and slaw 15.

main courses

brunch specials

o 3 egg omelet (also available with whites)
Lox and Onion 16. lobster 19. mushroom 14. cheese 11.
o poached eggs with spinach, crabmeat and hollandaise 18.
o prime rib hash and eggs 19.
o double thick French toast, warm apples 14.
o bagel n' lox 15.
o UWS special, bagel, lox, white fish, sturgeon, cream cheese, tomato, red onion 21.

Ed's favorites

o butternut squash risotto 15.
o grilled New Bedford scallop salad, arugula, red onion and orange 21.
o spicy chopped vegetable salad with crispy calamari 15.
o peppered tuna steak frites, herb butter 26.
o Caesar salad 14.
add crisp oysters 7. grilled shrimp 9. grilled chicken 5.
o fish n' chips, malt vinegar 17.
o the lobster roll, chowder house slaw 27.
o pasta with clams and pancetta (available with low carb / low glycemic pasta) 17.
o spicy steamed mussels with fries 19.
o chowder house burger, seasoned fries 15.
o grilled striped bass sandwich, watercress, beefsteak tomato and slaw 18.
o grilled chicken paillard, chopped tomatoes and arugula 19.
o Tuna sliders with seasoned fries 15.

simply

o lobster 16. per lbs.
o local fluke 20.
o weakfish 17.
o tuna steak 25.
o Atlantic salmon 23.
o jumbo grilled shrimp 22.
o New Bedford sea scallops 23.
o Chatham cod 21.
o Montauk striped bass 24.
o whole porgy 18.

o domestic lamb chops 32.
o dry aged black angus sirloin 30.
o filet mignon 27.
o surf n' turf, filet mignon and grilled jumbo shrimp 32.

sides 6.

garlic-chili spinach spaghetti vegetables red bliss potatoes with parsley
green beans horseradish mashed potato chowder house slaw
spiced corn gratin creamed spinach seasoned fries
thick sliced bacon turkey sausage sausage patty
Ed's Chowder House, Empire Hotel, 44 W. 63rd St., at Broadway; 212-956-1288