Terrazza Toscana Brings Rooftop Dining to Theater District
A flashy Italian newcomer around the corner from the humble Chez Napoléon.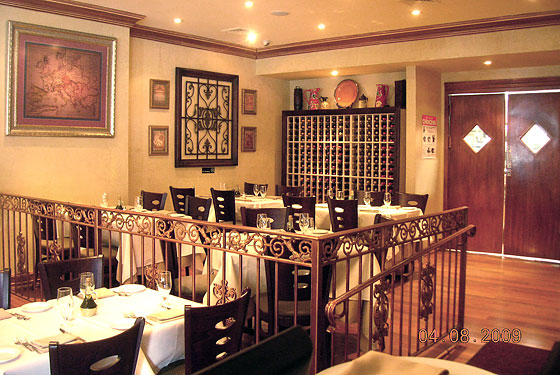 When it comes to the theater district, our hearts and stomachs belong to the humble Chez Napoléon, but right around the corner, Ignazio Pietra, owner of Strata 57, has opened a flashy newcomer, Terrazza Toscana. The pièce de résistance here is an outdoor terrace, located on the one-story building's roof, that will seat 70 people once the Buildings Department gives the go-ahead. For now, the dining room you see above (with another shot below) seats about 100. Downstairs, there's a wine vault holding about 1,500 bottles and a bar fit for 70 people. Chef Emanuel Concas, a native of Sardinia, has cooked at San Pietro and La Giara. Partner and wine director Ettore Camilleri tells us his signature dish is the inzimino di calamari — the rest of the menu follows.

LUNCH
(Monday thru Friday from 11:30 A.M. to 3:00 P.M.)

ANTIPASTO/APPETIZER

RIBOLLITA 7.95
Classic Tuscan soup with minestrone, bacon and bread

INSALATA TERRAZZA 9.95
Crispy red apples, bufalla ricotta cheese, mesclun lettuce, toasted pine nuts, white balsamic dressing

POLLO GRIGLIATO CON CAESAR INSALATA 9.95
Grilled chicken over Caesar salad served with traditional Caesar dressing and croutons

INSALATA DI CAPRINO 9.95
Goat cheese with cucumber, roasted peppers, and radicchio

CAPRESE DI BUFALA 12.95
Plum tomato, bufala mozzarella, basil, extra virgin olive oil and fresh oregano

CALAMARI FRITTI 12.95
Fried squid with marinara sauce

CARPACCIO DI MANZO 10.95
Beef carpaccio with baby arugula and parmesan flakes, extra virgin olive oil

BRUSCHETTA TOSCANA 11.95
Tuscan bread topped with speck, smoked mozzarella, and truffle oil

BRESAOLA 10.95
Cured beef with artichokes, parmesano cheese olive oil and lemon

POLPETTINE 10.95
Chicken mini meat balls with cherry tomato sauce and cannellini beans

PASTAS

GARGANELLI AL VITELLO TOSCANO 19.95
Garganelli pasta with Tuscan veal ragu

SPAGHETTI E POLPETTE 18.50
Spaghetti with veal meat balls, over tomato and basil sauce

PAPPARDELLE 14.95
Pappardelle with zucchini, eggplant in a cherry tomato and thyme sauce

GNOCCHI 14.95
Potato dumplings with pesto, tomato, and touch of cream

TAGLIATELLE FUNGHI 16.95
Tagliatelle with mixed mushrooms in a cream sauce

SPAGHETTI CON GAMBERI E RUCOLA 16.95
Spaghetti with toasted shrimps, arugula, garlic and olive oil

ASPARAGUS E RICOTTA RAVIOLI 16.95
Asparagus and ricotta ravioli with asparagus tips and truffle oil sauce

SANDWICHES AND PANINIS
(Served with house salad)

HAMBURGER 11.95
100 % Beef burger with lettuce, tomato, mayonnaise, onions, cheese, bacon

FOCACCIA CON PROSCIUTTO 11.95
Pressed focaccia with prosciutto, mozzarella, tomato and basil.

FOCACCIA CON VEGETALI 10.95
Pressed focaccia with grilled vegetables, spicy mayonaisse

CIABATTA 11.95
Ciabatta with mortadella and fontina cheese, tomato and lettuce

CARNI / POLLO / PESCI

POLLO MILANESE 16.95
Breaded chicken, served with baby arugula, chopped tomatoes

POLLO AL LIMONE 16.95
Chicken paillard on a lemon sauce and spinach

VEAL VALDOSTANA 17.50
Breaded veal with ham and Fontina cheese with French fries

SALMONE GRIGLIATO 17.50
Grilled salmon with grilled vegetables and cous cous

BRUNCH MENU
(Saturday and Sunday from 10:00 A.M. to 3:00 P.M.)

EGGS AND OMELETS $9.95 ea.

Eggs Benedict with Hollandaise sauce, Canadian bacon and country potatoes

Eggs Florentine - Poached eggs, steamed spinach, Hollandaise and potatoes

Two eggs any style, 8 grain toast, bacon and country potatoes

Onion frittata (egg pie) with country potatoes

Season vegetables frittata with country potatoes

Cheese and spinach omelets

Tomatoes and basil omelets

Mushrooms and spinach omelets

Shallot and asparagus omelets

Smoked Scottish salmon and crème cheese omelets

Egg white omelet Add $1.00

COUNTRY MORNING $9.95 ea.

French toast with whipped butter, maple syrup and fresh berries

Classic pancakes topped with berries and whipped butter

LUNCH FARE

Soup of the day $6.95

Spinach salad with goat cheese, bacon, hard-boiled eggs and mushroom 6.95

Fettuccine Bolognese 11.95

Penne with smoked salmon and vodka sauce 11.95

Classic Caesar salad with marinated grilled chicken breast 9.95

Grilled salmon over mesclun salad in sage vinaigrette 9.95

Goat cheese and spinach wrap in toasted wheat tortilla with parsley oil 6.95

SANDWICHES AND PANINIS $9.95
(Served with house salad)

HAMBURGER 11.95
100 % Beef burger with lettuce, tomato, mayonnaise, onions, cheese, bacon

FOCACCIA CON PROSCIUTTO 11.95
Pressed focaccia with prosciutto, mozzarella, tomato and basil.

FOCACCIA CON VEGETALI 10.95
Pressed focaccia with grilled vegetables, spicy mayonaisse

CIABATTA 11.95
Ciabatta with mortadella and fontina cheese, tomato and lettuce

SIDE ORDERS $3.00 ea.

Bacon

Sautéed spinach

Baked country potatoes

DINNER

ZUPPA / INSALATE

RIBOLLITA 9.95
Classic Tuscan soup with minestrone, bacon and bread

INSALATA TERRAZZA 11.95
Crispy red apples, bufala ricotta cheese, mesclun lettuce, toasted pine nuts, white balsamic dressing

CARCIOFI E PARMIGIANO 12.95
Shaved artichokes with dry pistacchio nuts, parmesan flakes and extra virgin olive oil

INSALATA DI PERA 10.95
Braised pear, baby arugula, shaved pecorino cheese, lemon dressing

INSALATA DI BIETOLA 11.95
Mixed roasted beets with mesclun salad and gorgonzola dressing

CAPRESE DI BUFALA 14.95
Plum tomato, bufala mozzarella, basil, extra virgin olive oil and fresh oregano

INSALATA COSTIERA 11.95
Curly frisee with capers, anchovies and olives with extra virgin olive oil and red vinegar dressing

INSALATA DI ZUCCA E FUNGHI 11.95
Roasted pumpkin and shitake mushroom over endive and arugula, extra virgin olive oil

RICCIA E GORGONZOLA 11.95
Curly lettuce with gorgonzola crouton, bacon and balsamic dressing

INSALATA DI CAPRINO 11.95
Goat cheese with cucumber, roasted peppers, and radicchio balsamic dressing

INSALATA DI RADICCHIO 12.95
Radicchio, cherry tomatoes, stracchino cheese and basil dressing


ANTIPASTO/APPETIZER

PESCE SPADA 14.95
Thin slices of swordfish, served with mango salsa and puree of green peppers

TONNO SCOTTATO 14.95
Seared thin slices of Yellow fin tuna served with puree of eggplant and extra virgin olive oil

FRITTELLE DI MELANZANE 11.95
Eggplant and ricotta balls served over tomato coulis

BRESAOLA 11.95
Cured beef with artichokes, parmesan cheese olive oil and lemon

ANTIPASTO MISTO 14.95
A selection of Italian cheeses and imported cuts from Tuscany

INZIMINO DI CALAMARI 14.95
Stewed calamari with Swiss chard and a Chianti - tomato sauce

CARPACCIO DI MANZO 13.50
Beef carpaccio with baby arugula and parmesan flakes, extra virgin olive oil

BRUSCHETTA TOSCANA 13.50
Tuscan bread topped with speck, smoked mozzarella, and truffle oil

CALAMARI ALLA GRIGLIA 14.95
Grilled calamari sautéed with garlic and red pepper flakes over baby arugula and cherry tomatoes

SALCICCIA CON BROCCOLI DI RAPE 12.95
Italian style sausages with broccoli rabe, garlic and extra virgin olive oil

POLPETTE DI POLLO 13.50
Chicken mini meat balls with cherry tomato sauce and canellini beans

GAMBERI E CANNELLINI 14.95
Toasted shrimp with garlic and olive oil and cannellini beans


CONTORNI / SIDE DISH

CICORIA 6.95
Sautéed chicory with black olives, capers, anchovies in extra virgin olive oil

ESCAROLA 6.95
Sautéed escarole with pine nuts and raisins, garlic and oil

BROCCOLI DI RAPE 7.95
Broccoli rabe sautéed garlic and pepper flakes

POLENTA 6.95
Grilled polenta

ASPARAGI GRIGLIATI 7.95
Grilled asparagus with lemon zest and extra virgin olive oil

PASTAS

SPAGHETTI CHITARRA 21.95
Fresh spaghetti in a lamb stew, shaved pecorino cheese

GARGANELLI AL VITELLO TOSCANO 21.95
Fresh garganelli pasta with Tuscan veal ragu

FETTUCCINE CON GAMBERI E ASPARAGI 21.95
Fresh fettuccine with shrimps, asparagus in garlic, and Vernaccia wine sauce

PAPPARDELLE 19.95
Fresh pappardelle with zucchini, eggplant in a cherry tomato and thyme sauce

GNOCCHI 19.95
Fresh potato dumplings with pesto, tomato, and touch of cream

TAGLIATELLE AI FUNGHI 21.95
Fresh tagliatelle with mixed mushrooms in a cream sauce

CAVATELLI TRAPANESI 21.95
Fresh cavatelli with almond pesto, shrimps and manila clams

LINGUINI ALLE VONGOLE 21.95
Linguini with manila clams, in red or white wine sauce

PACCHERI 19.95
Paccheri with fresh tomato, basil and bufala mozzarella

ASPARAGUS E RICOTTA RAVIOLI 21.95
Asparagus and ricotta ravioli with asparagus tips and truffle oil sauce

RAVIOLI DI RICOTTA 19.95
Ricotta cheese ravioli with fresh tomato ragu

SPAGHETTI E POLPETTE 21.95
Spaghetti with veal meat balls, over tomato and basil sauce

SPAGHETTI ALICI 19.95
Spaghetti with anchovies, basil and fresh tomato, garlic and olive oil

ORECCHIETTE PANCETTA 19.95
Orecchiette with haricots verts, smoked bacon and white onions

SCIALATIELLI FRUTTI DI MARE 21.95
Scialatielli with mussels, calamari, shrimps, clams, in a white wine and cherry tomato


CARNI - POLLO/MEATS-CHICKEN

BOCCONCINI DI POLLO 17.95
Breast of chicken sautéed with sausages, sweet peppers, garlic and rosemary

POLLO AL POMODORO 17.95
Sautéed chicken breast with cherry tomato, black olives, capers in a Chardonnay sauce

POLLO ARROSTO 18.95
Roasted chicken breast with smoked bacon, herbs and asparagus on a Barolo wine sauce

COSTOLETTE D`AGNELLO 28.95
Pistaccio crusted Rack of lamb served with broccoli in a Syrah wine sauce

MORBIDELLE DI VITELLO 24.95
Ricotta and ground veal meatballs served in a mushroom sauce and sautéed escarole

BISTECCA FIORENTINA 38.95
Dry aged grilled 14 oz. Rib eye steak with mixed peppercorns served with French fries

CINGHIALE IN UMIDO 27.95
Wild boar stew with Barolo sauce served with soft polenta

SCALLOPINE POMODORO E MOZZARELLA 23.95
Veal scallopine with tomatoes, oregano, basil, smoked mozzarella

SCALLOPINE AI PINOLI 23.95
Veal scallopine sautéed with pine nuts, raisins, Pinot Grigio and spinach


PESCI/FISH

DENTICE AL FORNO 24.95
Baked red snapper, cherry tomatoes, onions, thyme, in Sauvignon Blanc and fish broth

BRANZINO SELVATICO 26.95
Grilled wild striped bass filet with grilled vegetables and Salmoriglio sauce

CACIUCCO TOSCANO 23.95
Traditional Tuscan fish stew served with garlic croutons
Terrazza Toscana, 742 Ninth Ave., nr. 50th St.; 212-315-9191