Opus Opens Today, Promising Gluten-Free Gluttony
The Italian joint will serve pizza (regular and gluten-free) till 5 a.m.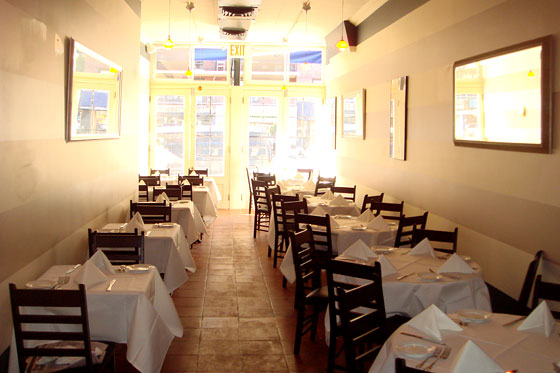 For our celiac friends, here's a look at Opus, the Italian joint that opens on the Upper East Side today, promising to serve gluten-free versions, should you request them, of nearly everything on its menu, as well as pizzas till 5 a.m. Chef Giuseppe Lentini is even going so far as to sell gluten-free specialty products such as pretzels, brown rice, pasta, breakfast bars, cookies, wafers, and chocolate bars. Before it goes into our trusty database, have a look at the menu in all of its gluten-free glory.
Bar Menu
Panzerotti crispy half-moon pies filled with mozzarella, tomato - $6
Opus Burger, served on our daily baked bread - $10
Cestino - $6
Assortment of Meats - $14
Assortment of Cheeses - $12
Calamari fritti - $11
Caprese - $12
Baked clams - $12
Artichoke filled with shrimp, puree of fava beans and scallops - $12
Mussels steamed in white wine, parsley pesto and roasted peppers - $10
Oysters of the day - $12
Chilled Jumbo Shrimp shucked and chilled al minuto - $16
Top neck Clams 6 pcs - $12
Colossal Crab - $18
American Sturgeon Caviar 1 oz m/p
Malosol Black Caviar 1 oz m/p
Raw Bar
Oysters of the day - $12
Chilled Jumbo Shrimp cooked and chilled Al Minut - $16
Top Neck Clams - $12
Colossal Crab - $18
American Sturgeon Caviar 1 oz m/p
Malosol Black Caviar 1 oz m/p
Appetizers
Buffala Mozzarella, Tomatoes and Basil - $12
Roasted Peppers filled with Goat cheese, served warm - $10
Artichoke filled with Shrimp, puree of fava beans and scallops - $12
Baked Clams, shucked and baked to order - $12
Grilled Octopus - $12
Pan fried calamari - $11
Caponatina, diced eggplant, raisins, pignoli nuts, onions, and tomatoes - $9
Mussels steamed in white wine, parsley pesto and roasted peppers - $10
Angelina's overnight fava beans and chicory with olive oil - $9
Polipo Gallega, boiled octopus, olive oil, spicy powdered pepper - $10
Soups (All Creamless)
Puree of asparagus soup - $8
Daily Soup - $8
Chicory and baby meatballs in a chicken broth - $8
Salads
Frisee, pears, walnuts, gorgonzola in a Morellino red wine reduction - $10/ $18
Warm Italian lentils, goat cheese and red beets, red wine-olive oil vinaigrette - $10/ $18
Endive, artichokes, tomatoes, olives, and red onions, red wine-olive oil vinaigrette - $10/$18
Romaine, tomatoes, endive, onion, radicchio and roasted peppers - $10/ $18
Shaved fennel, arugula, and shrimp, in a grapefruit citrus vinaigrette - $11/ $18
Endive, red beets, chicory, goat cheese, and balsamic dressing - $10/ $18

Pasta
Spaghetti with sea urchin, saffron and lemon zest - $17/ $8
Bucatini with fresh sardines, raisins, pignoli nuts, roasted bread crumbs and tomatoes - $18/ $9
Gnocchi with sweet sausage, porcini in a light tomato sauce - $17/ $8
Tagliolini with anchovies, pignoli nuts, and fresh spicy chili peppers and chicken broth - $18/ $9
Cavatelli with asparagus, prosciutto and cherry tomatoes - $18/ $9
Penne with rabbit with light tomato sauce - $20/ $10
Pappardelle with a veal ragu and fresh pesto - $20/ $10
Plates
Roasted Branzino with black olives, wedges of fresh tomato and basil - $24
Grilled fresh sardines lightly sprinkled with bread crumbs and fresh herbs (available gluten free) - $22
Sea bream poached in its own broth with leafy parsley, crushed plum tomatoes, and garlic - $24
Filet of sole sautéed in white wine and lemon - $20
Fresh fish and shellfish assortment in a light tomato sauce - $23
Salmon alla griglia - $23
Head on shrimp alla Piastra - $32
Half chicken in white wine, lemon, garlic, rosemary and artichokes - $18
Galletto Diavola (Pan roasted Cornish hen) - $20
Veal scaloppini with gorgonzola and grated parmigiano - $20
Roasted pork loin infused with apple reduction sauce - $22
Grilled sirloin served with roasted potatoes - $35
Pounded loin of veal, lightly breaded with diced buffala mozzarella, tomato, and basil - $35
Composed Pizzas
ANNAMARIA tomato sauce, mozzarella, spicy salame, basil - $13
NAPOLETANA tomato sauce, mozzarella, anchovies, basil - $15
LAUREN tomato sauce , mozzarella, zuccihini, mushrooms, basil - $16
ARUGOLA tomato sauce, mozzarella, prosciutto, shaved parmigiano, arugula - $18
SFIZIOSA tomato sauce, ricotta salata, cherry tomatoes, arugula, basil - $16
FUNGHI tomato sauce, mozzarella , mushrooms - $15
SALSICCIA tomato sauce, mozzarella, spicy sausage - $16
ISABELLA tomato sauce, ricotta , sausage, olives - $17
BUFALINA mozzarella , prosciutto, tomato salsa - $19
4 STAGIONI tomato sauce, mozzarella, olives, artichokes, and basil - $18
PIZZA CHIUSA tomato sauce, mozzarella, olives, capers and basil - $16
MARINARA tomato sauce, garlic, oregano, anchovies, basil. No cheese - $15
CAPRESE cherry tomatoes, basil, arugula, ric. salata - $18
TARTUFATA tomato sauce, mozzarella truffle oil, basil - $18
VERDURA roast peppers, eggplant, zucchini, mozzarella,tomato - $18
PIZZA BIANCA gorgonzola, fontina, parmisan, basil. No tomato sauce - $19
PANZEROTTO pan fried calzone with tomato and mozzarella - $18
Desserts
Cantoncini amaretto cookies - $10
Home made "Nutella" pizza - $10
Tiramisu - $8
Puff pastry cannoli filled with custard cream - $8
Ricotta cheesecake w/gelati option - $8
Chocolate mousse - $8
Espresso flavored baked cream (Panna Cotta) - $8
Assorted chocolate plate - $14
Cold zabaglione with Berries - $10
Hand made sorbets, gelati, soy milk and rice milk "ice creams" (12-15 flavors daily) - $8
Sundaes - $8
Chocolate fun per due - $15
Opus, 1574 Second Ave., nr. 82nd St.; 212-772-2220